50 Ramayana Quotes to change life is one of the greatest saying on this earth.
The Ramayana is one of the greatest epics of all time in the context of any literature in the world.
From the Valmiki Ramayana to Ramcharit Manas, all the key essence greatly inspired entire human beings.
The holy book is not only an epic rather a goldmine of life teachings that are leading the lives of millions.
The lives of people in India and across the globe are guided and uplifted by the light of this great piece of writing.
The great epic encompasses all the most excellent qualities of human beings in a single scripture.
The ideals of Truth, keeping promises, sacrifices for others, brotherhood, duties of husband, wife, and brother, etc., are greatly exemplified in this scripture.
The victory of Truth over Untruth, Adhrma, and Arrogance teaches humanity the most important lesson to learn and follow in the life journey.
Undoubtedly, 50 Ramayana Quotes to change life is the guiding pathway of Indian legacy even after the centuries.
Ramayana has led the people of India to learn virtues to lead their lives and follow 'Dharma.'
Here are 50 Ramayana Quotes to change the life that will leave great imprints on mind and soul.
1. Ravana was not killed by Lord Rama but destroyed by his Ego, Immorality, and Adharma.–Ramayana Quotes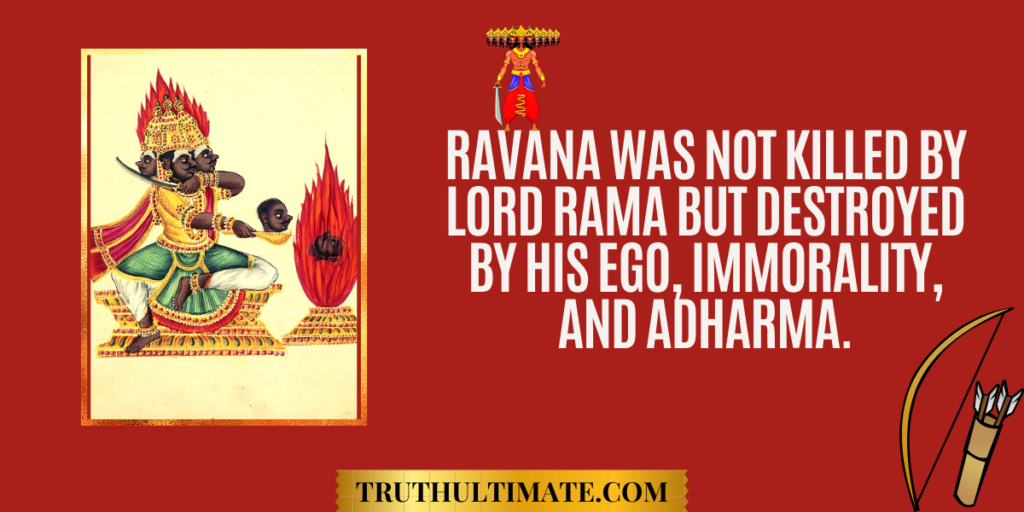 2. No matter how wise a person like Ravana, even if he is a ten-headed intelligent one, if he is devoid of Dharma, then destruction is certain.-Ramayana Quotes
3. Lord Rama is infinite, his qualities are also infinite and the extent of his stories is also limitless. Therefore, those whose thoughts are pure, they will not be surprised to hear this story.-Ramayana Quotes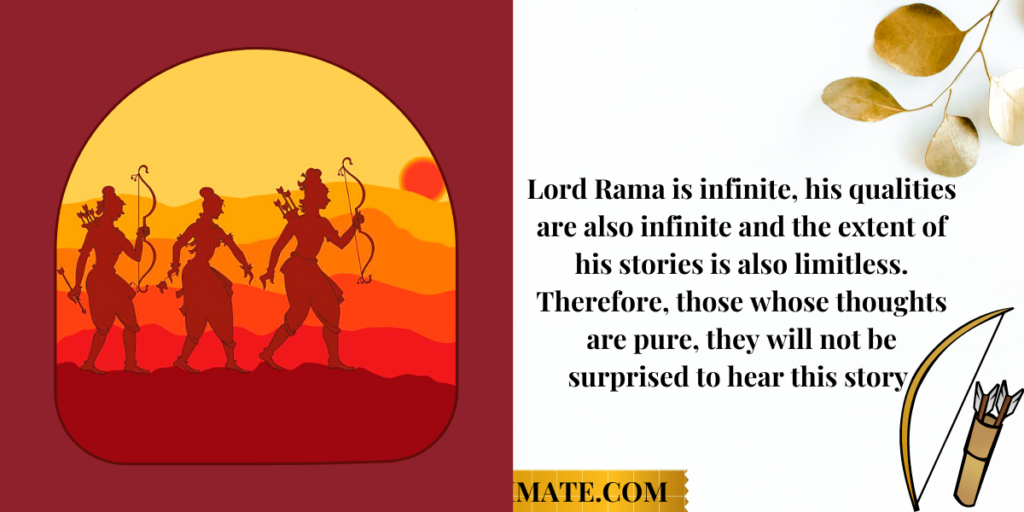 4. The three main causes of destruction are as follows: theft of others' wealth, evil eye on another's wife, and doubting the character and integrity of one's own friends.-Ramayana Quotes
5. The name 'Rama' is Brahma, Vishnu, and Shiva. He is the life force of the Vedas, Nirguna, without likeness and a storehouse of virtues.-Ramayana Quotes
6. Nirguna and Saguna are the two forms of 'Supreme Brahman.' Both of them are inexplicable, immeasurable, beginningless, and novel. In my opinion, the name is greater than these two, who with his power has kept both of them under his control.-Ramayana Quotes
7. Lord Rama made the terrible Dandak forest pleasant, but the name purified the minds of innumerable human beings. He killed a group of demons, but His name is the destroyer of all the sins of KaliYuga.–Ramayana Quotes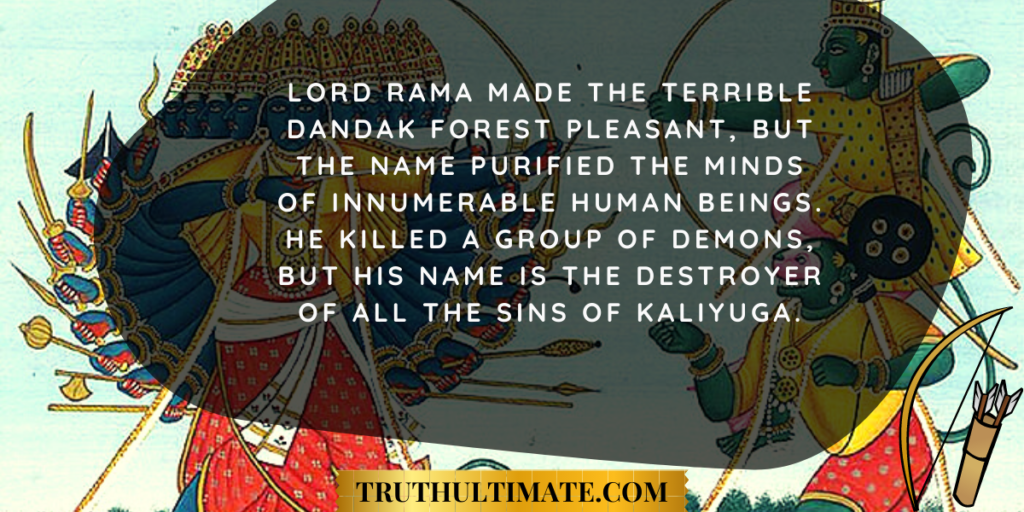 8. Lord Rama gave salvation to the best servants like Shabari, Jatayu, etc., but His name saved countless wicked ones. The story of the qualities of His name is famous in the Vedas.–Ramayana Quotes
9. In Kaliyuga, there is neither action, nor devotion, nor knowledge, the name of Lord Ram is the only foundation. The name of Rama is the wisest and capable one to kill Kaliyuga, the mine of deceit.–Ramayana Quotes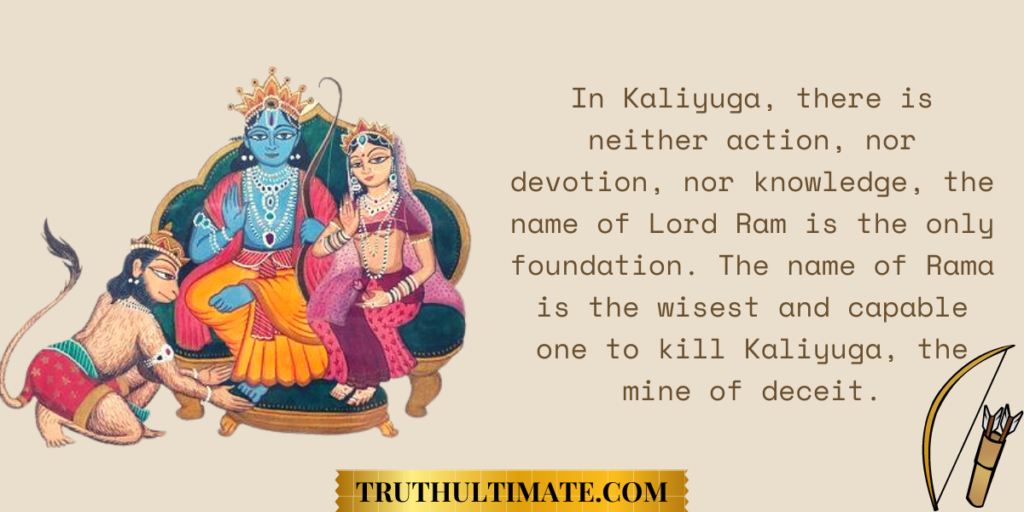 10. The clusters of qualities of Lord Rama are to burn the wickedness, immorality, sinfulness, and hypocrisy of Kali Yuga, like a raging fire for fuel.–Ramayana Quotes
11. Love and hostility should be made only with the equal; the policy is like this. If a lion kills frogs, will anyone say good to him?–Ramayana Quotes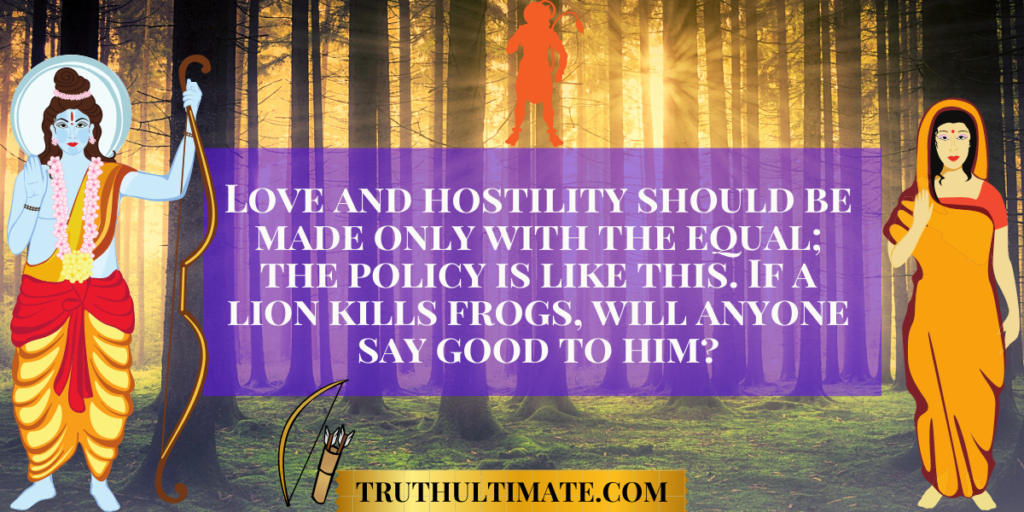 12. Good work should be done as soon as possible, and inauspicious should be avoided as much as possible.–Ramayana Quotes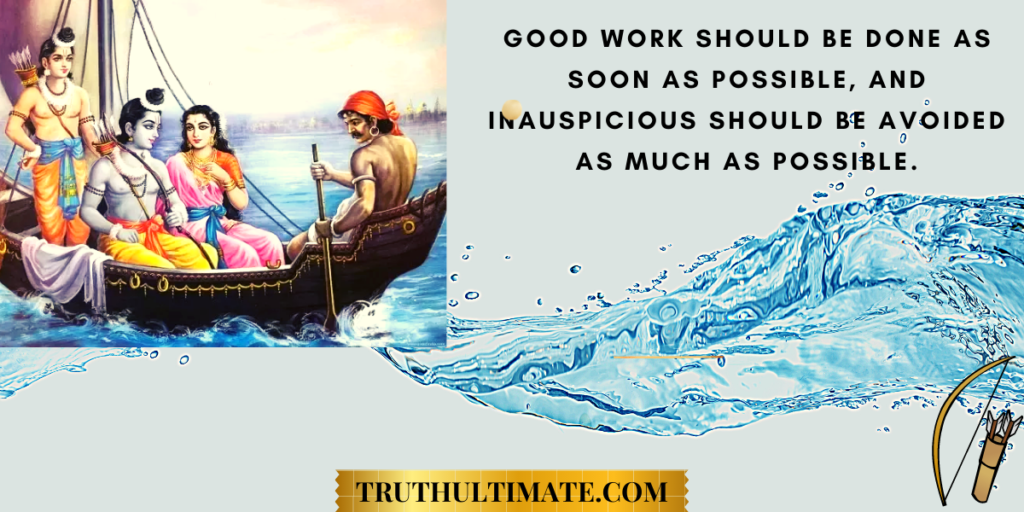 13. Never consider your opponent, your enemy smaller than you. What Ravana thought of as ordinary apes and bears destroyed his entire army.–Ramayana Quotes
14. No one is immortal in this world; Ravana's boon of immortality could not save him.–Ramayana Quotes
15. The character of Lord Rama is a beautiful Chintamani and a beautiful adornment of the wisdom of saints. The group of qualities of Lord Rama is the doer of the world and the giver of liberation, wealth, religion, and supreme abode.–Ramayana Quotes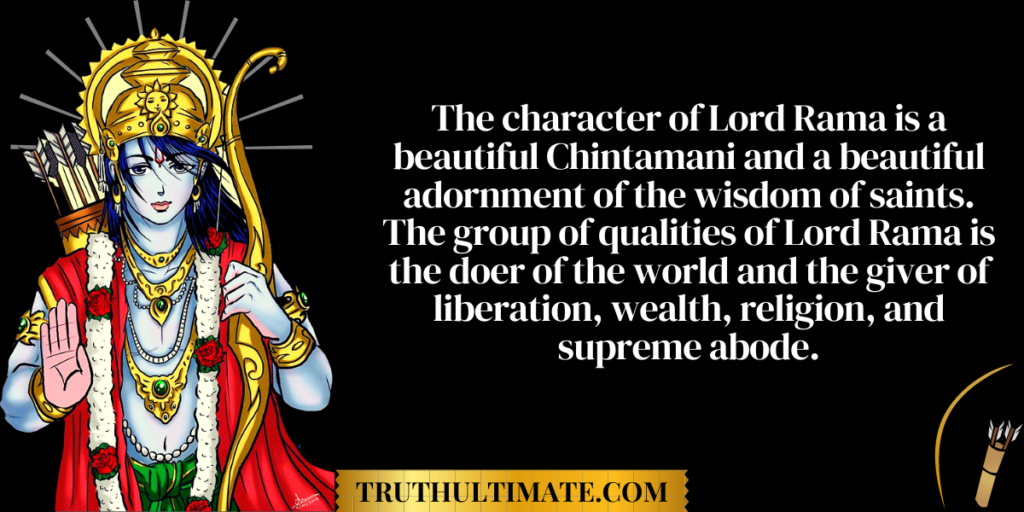 16. Supporting the unrighteous is also the cause of destruction. All the companions of Ravana got destroyed.–Ramayana Quotes
17. Raghukul's ideal is that protecting the promised words is a better option than protecting life.–Ramayana Quotes
18. Ram is not just a name, but a symbol of an ideal son, ideal brother, ideal husband, and a king abide by Dharma.–Ramayana Quotes
19. When a man's destruction comes, his own intellect gets corrupted – Vinash Kale Viprit Buddhi.–Ramayana Quotes
20. Lord Rama is the Master of knowledge, dispassion, and yoga and is like a Vaidya (Ashwinikumar) of the gods to destroy the dreadful disease of the world. He is like the originator to produce the love and the seeds of all fasting, Dharma, and rules.–Ramayana Quotes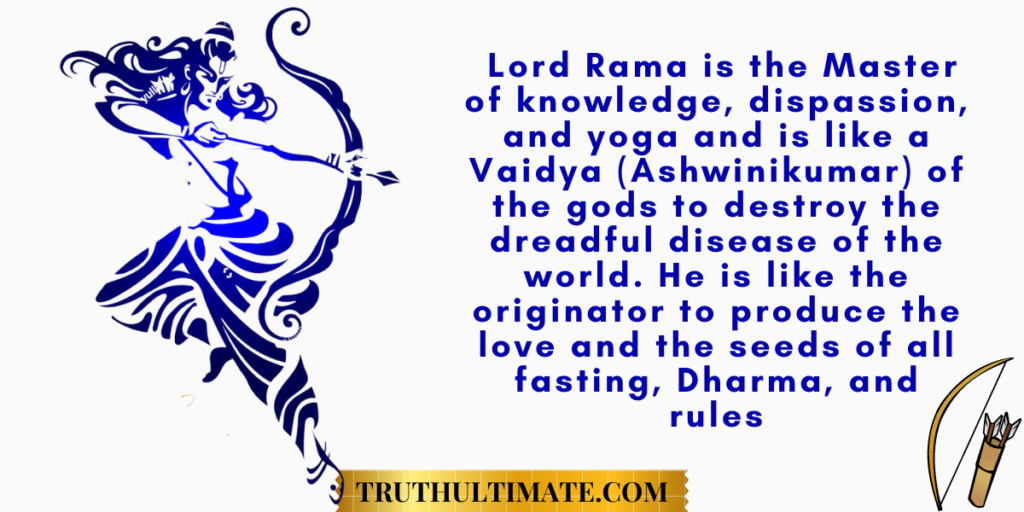 21. Well-being lies in the refuge of Truth and Dharma, as happened to Vibhishan and Sugriva.–Ramayana Quotes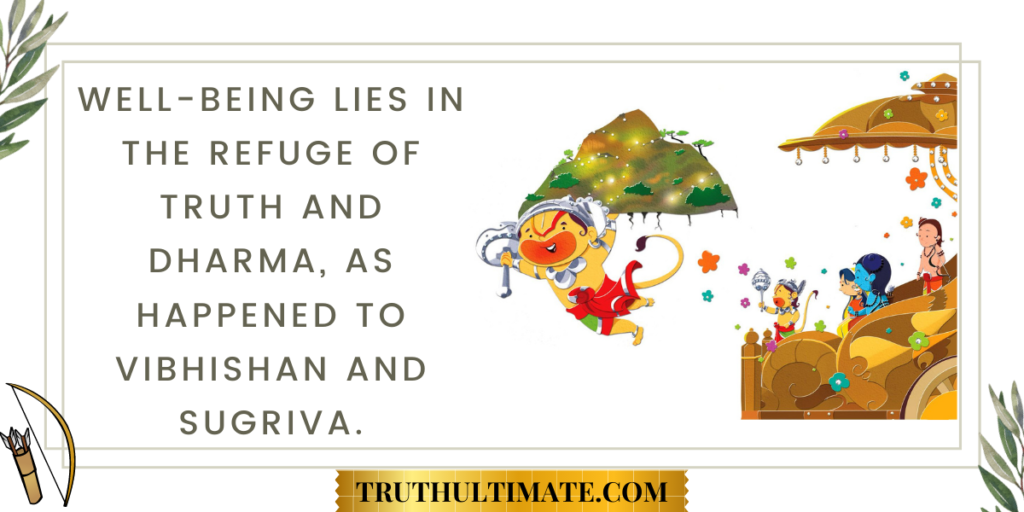 22. God resides in the heart of the truthful and faithful one as in the heart of Lord Hanuman.–Ramayana Quotes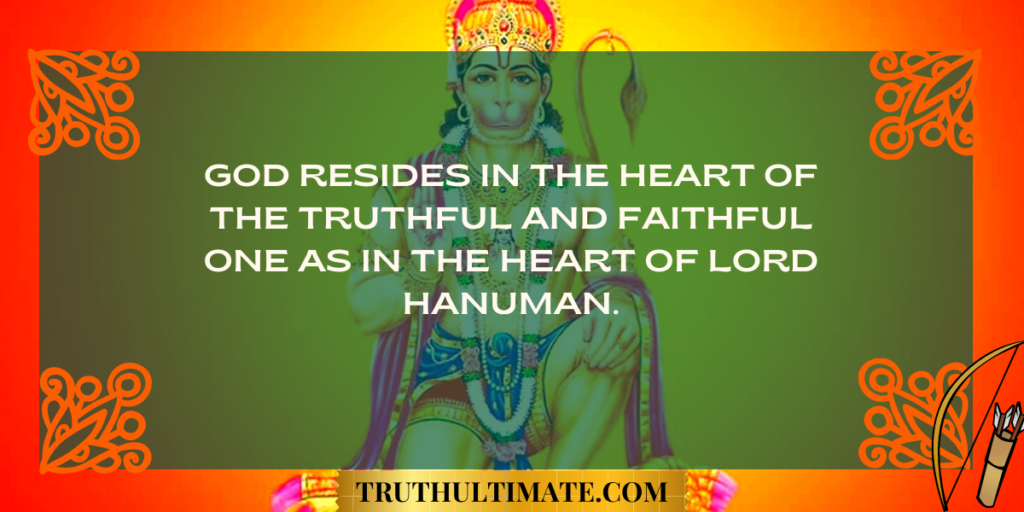 23. Ultimately, the victory of Truth and the defeat of adharma, immorality, deceit, untruth, ego, and Maya are certain.–Ramayana Quotes
24. The humiliation, disrespect, and deceit of a woman cause the destruction of a man's entire clan.–Ramayana Quotes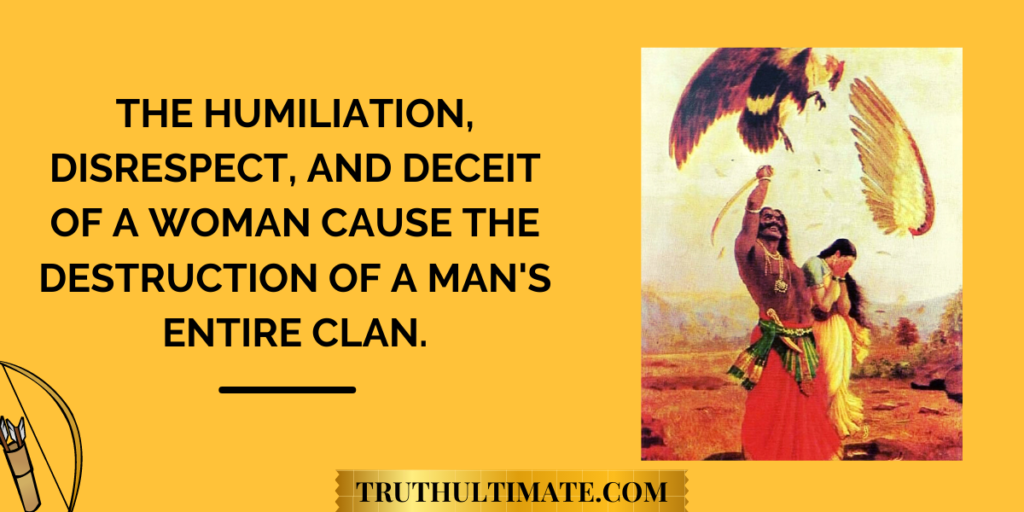 25. Whatever you get in life, accept it as the decision of destiny. Explore the possibilities of your development in them beyond adversity.–Ramayana Quotes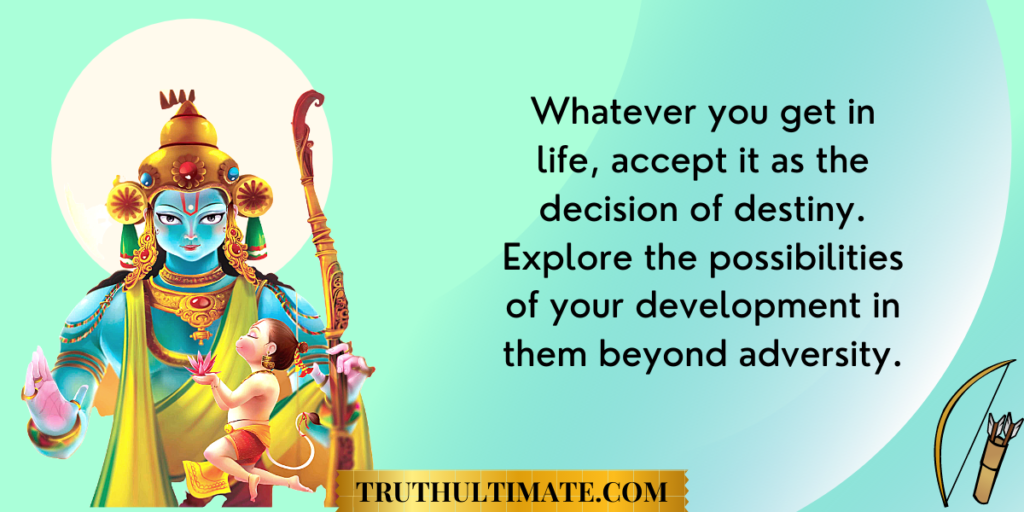 26. Put authority on what you morally have a right to and what you deserve.–Ramayana Quotes
27. Changing someone's circumstances should not change our allegiance to him. It is our loyalty and love that give us a higher position.–Ramayana Quotes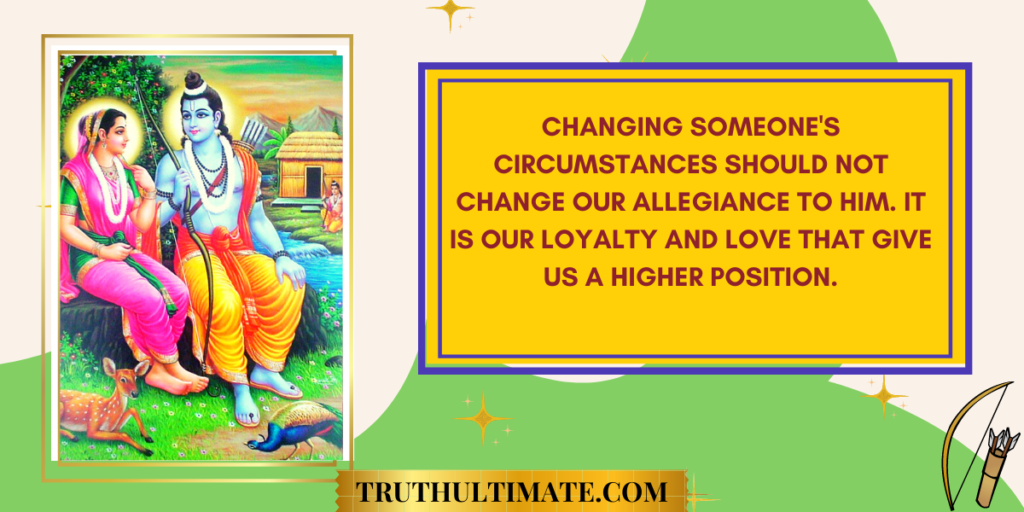 28. There is no other religion like serving and obeying parents.–Ramayana Quotes
29. Mother and Motherland are even greater than heaven.–Ramayana Quotes
30. Dharma is absorbed in the Truth, and this world is running by Truth only.–Ramayana Quotes
31. Artha, Dharma, Kama, Moksha – these four, the saying of the idea of knowledge and science, the nine rasas of poetry, the episodes of chanting, austerity, yoga, and austerity – all these are beautiful aquatic creatures of Ramayana.– Quotes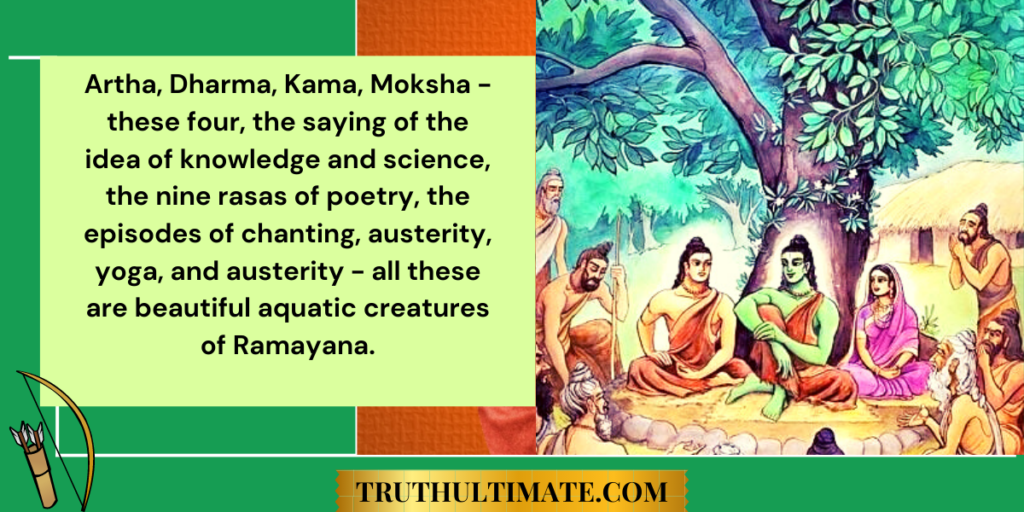 32. Those who know Dharma say that Truth is the highest Dharma.- Quotes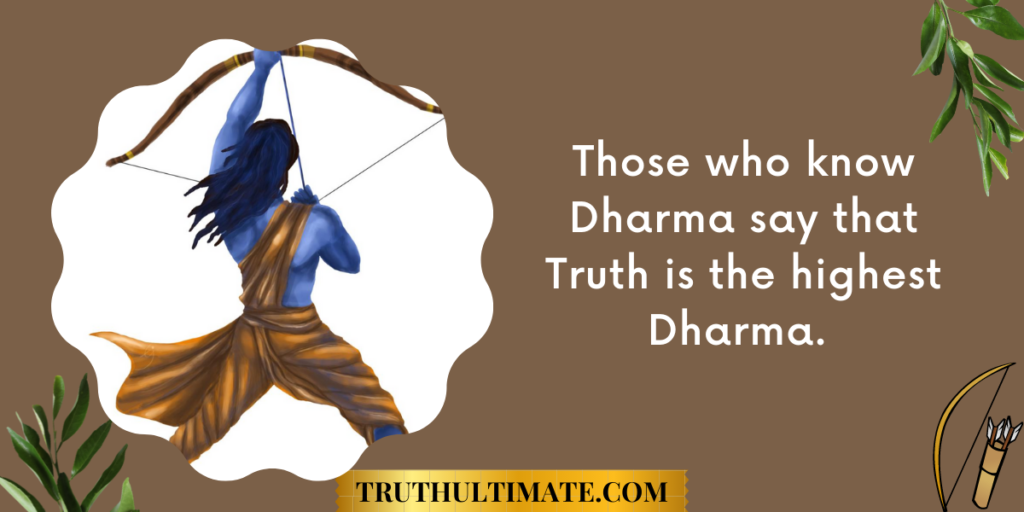 33. Grief destroys one's courage. It destroys one's learning. It destroys one's everything. There is no enemy greater than grief.– Quotes
34. There is no deity powerful than time.– Quotes
35. A Veena cannot exist without its strings. A chariot cannot exist without its wheels. A woman can never live happily without her husband even though she has a hundred sons.– Quotes
36. He who does not repay a favor is a stigma to humanity.– Quotes
37. Enthusiasm has great strength. There is no greater strength than enthusiasm. For the enthusiastic, there is nothing that is not attainable in this world.– Quotes
38. Whether in sorrow or happiness, a friend is always a friend's support.– Quotes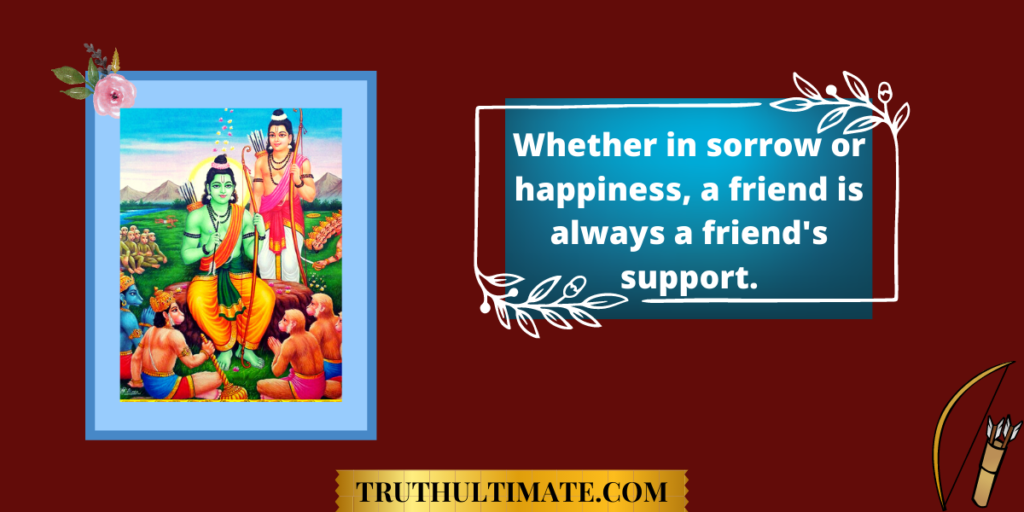 39. Only the timid and the weak leave things to destiny (daivam) but the strong and the self-confident never bank on destiny or luck (bhagya).– Quotes
40. Dharma is called because it sustains or supports the creation and order. Dharma sustains and keeps the people held together of a realm.– Quotes
41. There are three all-powerful evils: lust, anger, and greed.– Quotes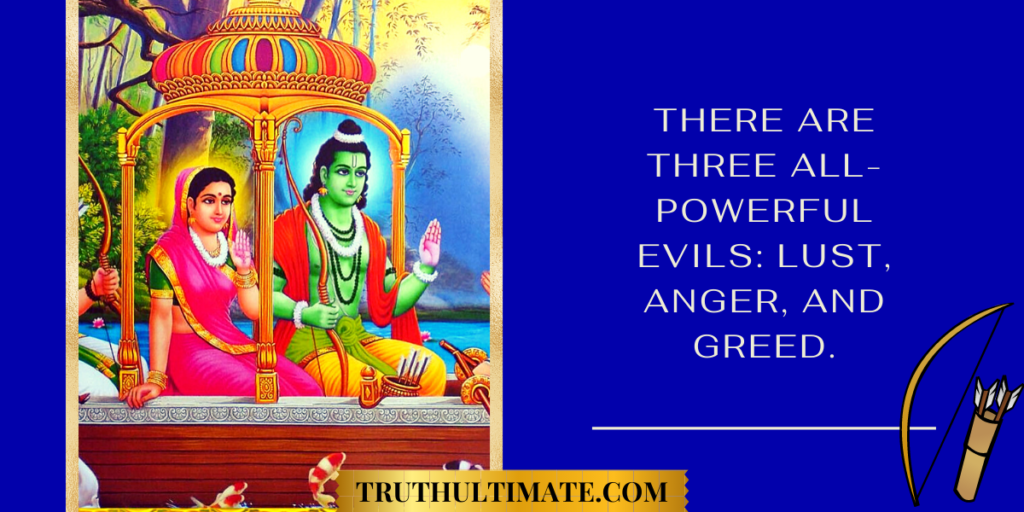 42. Hatred should cease along with the other one's death. You should never hate a dead man.- Quotes 
43. People are as repelled by a liar as they are of serpents.– Quotes
44. Sorrow kills one's patience, sorrow makes one forget one's ability to distinguish between good and bad, sorrow takes away all good qualities, and thus the sorrow is the biggest enemy of an individual.– Quotes
45. Time will always follow its rules and will never transgress those boundaries it imposes on itself. Nobody can harm time, and that's why nobody can change what fate has in store for them.– Quotes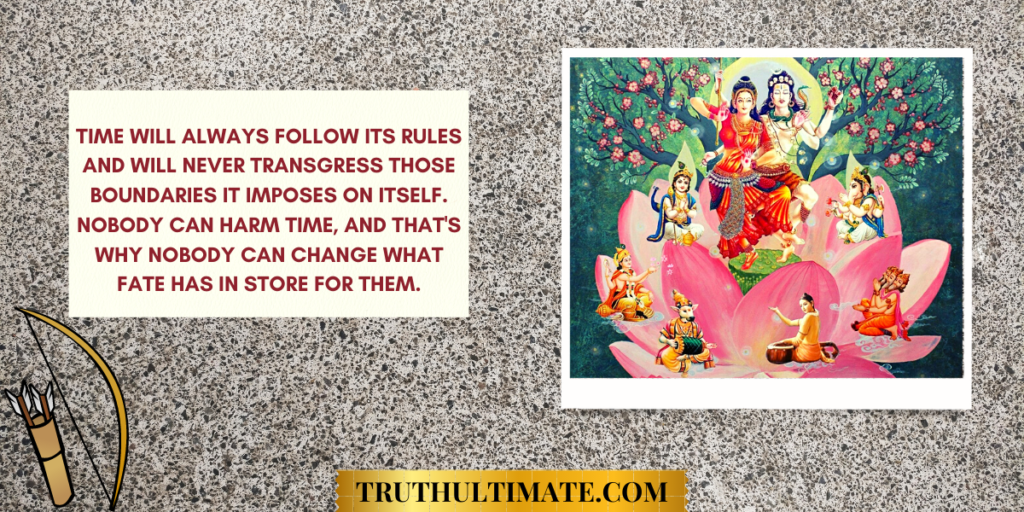 46. As birds are made to fly and rivers to run, so the soul to follow duty.– Quotes
47. Ravana, all your wealth is wasted; what's the use of being rich if you won't spend your gold to do good for other people?– Quotes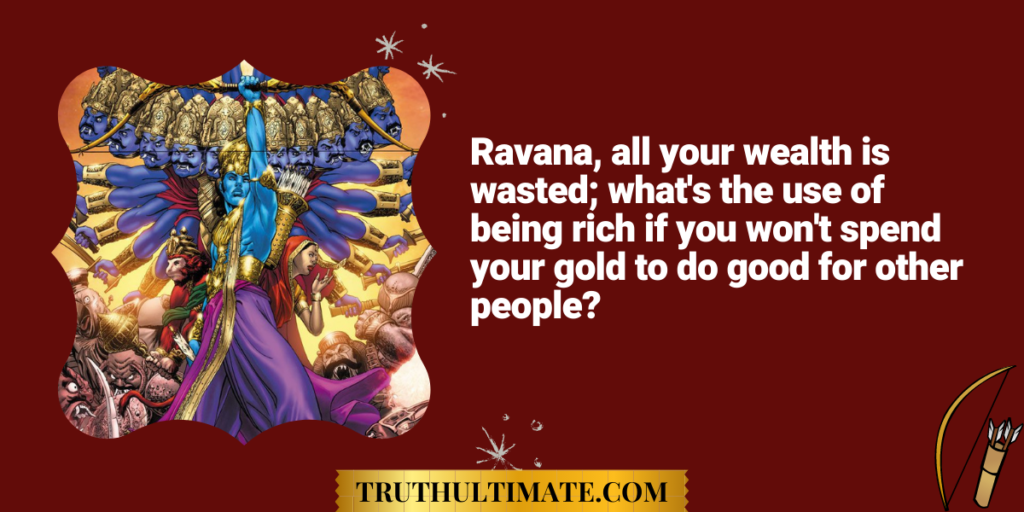 48. Be gracious, Master, and allow The worlds to rest from trouble now.– Quotes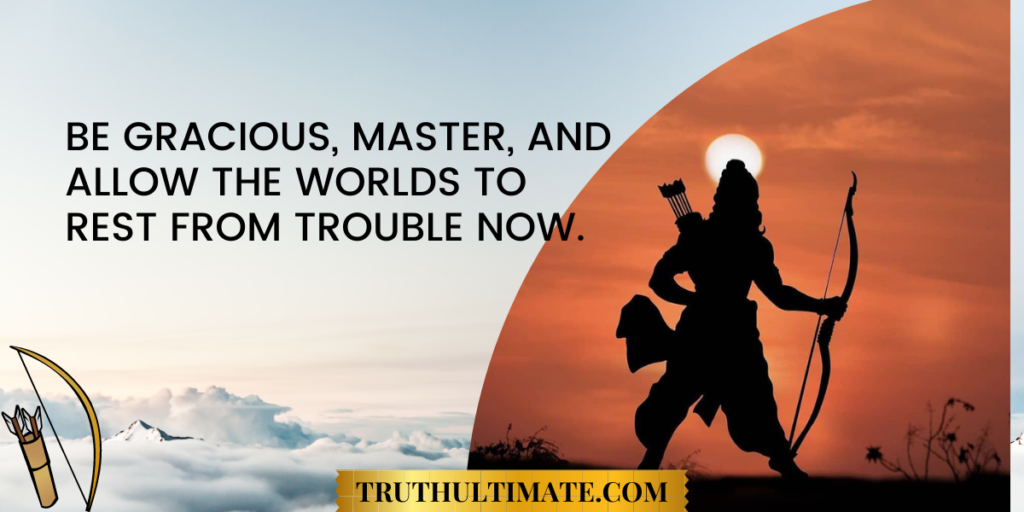 49. Beauty may leave the moon, Himalaya may become bereft of snow, the ocean may transgress its shores, but I will never violate the promise given by my father.– Quotes
50. Wise men say that the root of victory is consultation and discussion with learned and wise men.– Quotes
Reference:
https://www.goodreads.com/work/quotes/17956315-r-m-ya-am
https://www.theceo.in/blogs/best-ramayana-quotes
https://www.overallmotivation.com/quotes/ramayana-quotes/
http://www.scrolldroll.com/ramayana-quotes/