Gautam Buddha quotes are not only a mere combination of words; rather, the path of life leads to the end of suffering and to attain enlightenment in this very life. Lord Buddha, after getting the supreme enlightenment, spread the true lessons that he experienced for the welfare of the entire humanity for almost forty years.
Gautam Buddha quotes is the hope for humanity because he taught a great lesson to the world that a human being is capable of attaining supreme wisdom by his own karma. His teaching implies that what he achieved, another can also attain by following the path of right karma.
A human being primarily must focus on not only knowing oneself but also to end his sufferings by assimilating the teachings of Lord Buddha. Lord Buddha revealed the great eightfold path to the entire world that the suffering of a human being's life can be seized by practicing it.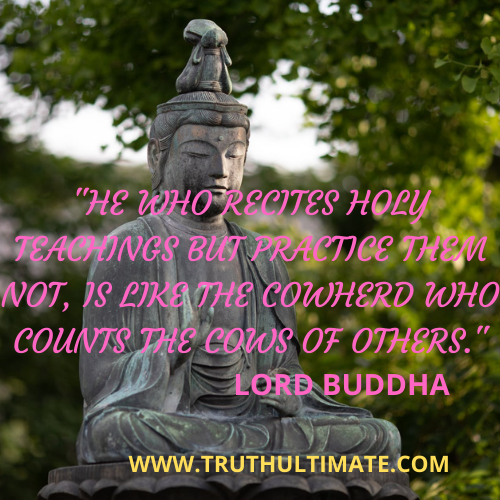 He who recites holy teachings but practice them not is like the cowherd who counts the cows of others.
THE EVIL-DOERS SUFFERS IN THIS WORLD AND IN THE NEXT; HE SUFFERS IN BOTH.
"YOU ARE THE MASTER OF YOUR OWN DESTINY RATHER ANYONE ELSE-DO RIGHT KARMA."
"CRAVING AND ATTACHMENT ARE THE ROOT CAUSE OF YOUR SUFFERING-CUT IT."
THOSE WHO UNDERSTAND THAT WE ALL MUST DIE ONE DAY, END THEIR QUARRELS.
NEVER IN THIS WORLD HAS HATRED QUELLED HATRED. ONLY LOVE CAN QUELL HATRED. THIS IS THE ETERNAL TRUTH.
A WELL-DIRECTED MIND CAN DO GREATER GOOD FOR US THAN OUR MOTHER OR FATHER OR ANY RELATIVE.
THE AWAKENED MAN FEARS NOTHING. HIS MIND IS NOT RULED BY PASSION OR HATRED AND HAS RISEN ABOVE GOOD AND EVIL.
THE MONK WHO DELIGHTS IN AWARENESS AND REGARDS IGNORANCE WITH FEAR WILL NEVER FALL FROM HIS SPIRITUAL HEIGHTS-HE IS CLOSE TO ATTAINING NIRVANA.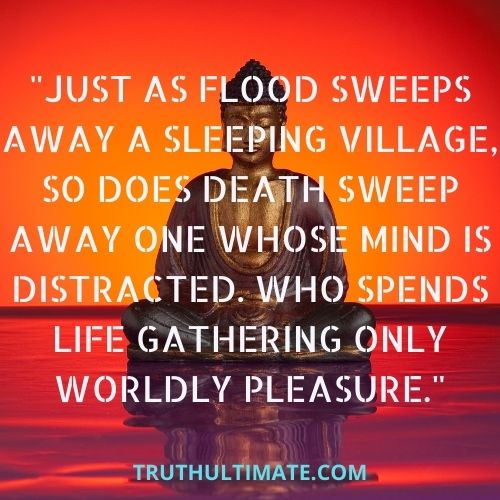 JUST AS FLOOD SWEEPS AWAY A SLEEPING VILLAGE, SO DOES DEATH SWEEP AWAY ONE WHOSE MIND IS DISTRACTED. WHO SPENDS LIFE GATHERING ONLY WORLDLY PLEASURE.