The biggest shock in Kansas State's 29-21 loss at Oklahoma State was the Wildcats being in contention until the end despite costly errors. Myriad mistakes and the listless offense quickly buried K-State in a hole. Still, the team almost climbed out before losing in Stillwater for the third straight time.
Wildcats Fall Short in Stillwater Despite Late Rally
After trailing 20-7 at halftime, K-State held Oklahoma State to field goals in the second half. Will Howard's 6-yard touchdown run then pulled them within eight points with 8:56 left.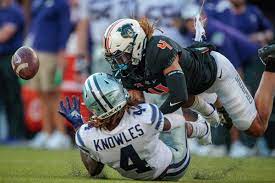 On the failed two-point try, Keagan Johnson's pass fell short. K-State later drove into Oklahoma State territory before Howard's third interception clinched the defeat.
The Wildcats got one last chance but turned it over on downs. For Oklahoma State, Alan Bowman passed for 235 yards while Ollie Gordon rushed for 136 yards and a score in the 412-yard offensive effort.
Howard passed for 152 yards with three picks for K-State while running for 104 yards and a touchdown.
Turnovers Undermine K-State's Upset Bid
Will Howard's interceptions did prove costly yet again. After one in each of the first four games, he doubled that tally in the first half courtesy of Cowboys safety Cameron Epps victimizing him twice.
Failing on their opening drive was an ill omen. K-State scored on its first possession in every previous game this season. But going three-and-out this time allowed Oklahoma State to respond with a 15-play, 72-yard scoring march that drained over five minutes.
Wildcats Fall Short but Offer Reasons for Optimism
In the end, K-State made too many mistakes while lacking offensive spark. However, the gutsy late rally highlighted resilience and toughness that should serve them well going forward.
For the Wildcats, the focus will shift to fixing flaws and regrouping after a valiant comeback came up just short.