First Impressions on the Workplace Thriller Fair Play

I love a juicy workplace romance flick, so I was excited for Fair Play – the Phoebe Dynevor/Alden Ehrenreich thriller about a couple secretly dating at a hedge fund. Beyond the bizarre, sexy premise, I'd relish seeing Rich Sommer in a dramatic turn away from his Mad Men character.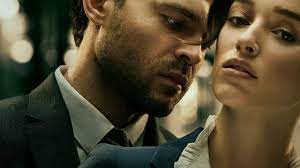 Here are some initial thoughts as I watch…
Why are the wine glasses in this bar scene giant? Did Olivia Pope stop by?
Emily and her boyfriend Luke both work at the hedge fund. Feels like a big reveal despite knowing this.
Emily published a WSJ story at 17. According to her creepy boss Campbell who meets her at a bar late at night?
Luke isn't thrilled about Emily's promotion and new power.
Hey, it's Jimmy Barrett from Mad Men! A mini-reunion.
Now Emily and Luke are clashing over who stays at the firm.
Luke melts down, screaming at Campbell and predictably outing his and Emily's relationship.
The sex turns into an upsetting, brutal assault scene.
Luke crashes the engagement party Emily's mom planned. Awkward for the guests!
This man has very intense facial architecture.

Even More Fair Play Thoughts that I have…
No smoking in the office for hedge fund folks? I assumed anything goes.
There's Harry Crane!
Emily's boss calls her a "dumb fing bh." File that harassment complaint, queen!
An angry white man is breaking things with a golf club at work.
I'm perplexed – can hedge fund employees actually damage property without repercussions?
So far, Fair Play is just as bizarre and unsettling as expected. But I'm sufficiently engrossed in the messy hedge fund drama and looking forward to seeing where this twisting workplace thriller goes next!