Israel has declared itself in a state of war following a large-scale surprise attack launched from Gaza early Saturday on civilian and military targets that have left hundreds of people dead on both sides. An unknown number of Israelis have also been taken hostage.
As more violence is expected between Gaza and Israel, various countries ranging from the US to Israel's Arab neighbors are urging de-escalation. However, leaders on both sides say they are now at war, and it will not end soon.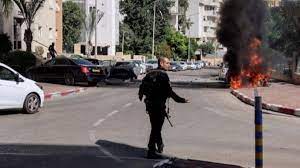 On the first day of attacks, at least 250 Israelis were killed with over 1000 wounded. More than 230 Palestinians died and nearly 2000 were injured per Gaza health officials.
The violence has spanned everything from ground fighting to airstrikes and rocket attacks.
Questions now circulate on how to restore calm, what goals Israel may pursue in response to what it sees as an invasion, and whether open warfare could derail US efforts to normalize Israel-Saudi relations.
According to a TV address Saturday night, Israel's Prime Minister Benjamin Netanyahu vowed that Israel will "reach into every place Hamas is hiding" and turn those locations to ruin.
Israel's military is calling up reserve soldiers, reinforcing positions, and launching Gaza airstrikes.
Hamas, the militant Islamist group controlling Gaza since 2007, was told by Netanyahu that anyone in areas where they operate should "leave those places now." He added that "Israel will settle the score with anyone who harms them."
Per Netanyahu's office, his security cabinet decided to cut off Gaza's electricity and gas from Israel while blocking the import and export of goods through Israel's border crossing.
In Gaza City, morgues and hospitals overflowed on Saturday as families sought news of relatives. With the streets dark, President Biden said he spoke to Netanyahu that morning, offering US support as needed to Israel.