Police in Lewiston, Maine have identified 40-year-old Robert Card as a person of interest in connection with mass shootings Wednesday evening. Authorities describe Card as armed and dangerous, saying his vehicle was found in a nearby town.
Suspect Named, Considered Armed and Dangerous After Lewiston, Maine Shootings
Multiple casualties have been reported but officials have yet to confirm the total victims. A shelter-in-place order remains active as the manhunt continues following the Lewiston Maine active shooter incident.
Hospitals Respond to Mass Casualty Event After Lewiston Maine Active Shooter Went on a Rampage
The Central Maine Medical Center says it is responding to a mass casualty, and mass shooter event and coordinating care with other hospitals. Lewiston police say Card is suspected in shootings at a bar and bowling alley.
Other hospitals are also preparing for potential patient transports. Officials have asked residents to stay off the roads to assist emergency responders. Classes are canceled district-wide in Lewiston tomorrow due to the active shooter situation.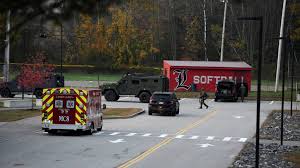 Federal Assistance Offered in Wake of Lewiston Maine Active Shooter Act
The White House says President Biden has been briefed and offered full federal support, speaking with Maine officials including the governor. The Justice Department is also monitoring with federal law enforcement assisting local partners.
Several hospitals in Maine have locked down campuses to non-personnel as a precaution following the Lewiston Maine active shooter incident.
Public Urged to Aid Search for Lewiston Maine Active Shooter Suspect
Police have released a photo of the suspect Card from his driver's license, asking the public to contact authorities if they have information on his whereabouts. He appears to match images from surveillance video showing a man with a long gun police previously released.
With Card still at large after the Lewiston Maine active shooter incident, authorities describe the situation as a dangerous manhunt. Anyone who sees the suspect or knows his location should notify law enforcement immediately.