The House GOP selected Rep. Mike Johnson as their new speaker nominee on Tuesday night after Rep. Tom Emmer abruptly withdrew just hours after initially winning the position.
Johnson Named Speaker Nominee in Chaotic Day
Johnson still lacks the 217 votes required to become Speaker, underscoring that Republicans remain divided three weeks after ousting Kevin McCarthy.
The tumultuous day saw Emmer rapidly forced out amid backlash from the right and former President Trump. In a key vote, Johnson survived to set up another Speaker vote Wednesday.

Third GOP Nominee Unable to Unify Conference

Mike Johnson is now the third Republican nominated by the conference only to hit roadblocks in securing full support. Emmer faced fierce resistance from the start and a rebuke from Trump.
Johnson may face similar hurdles as the party struggles to rally around a successor to McCarthy. Emmer is the third would-be nominee forced to bow out as deep GOP divisions stall Speaker selection. The political crisis has left the House paralyzed.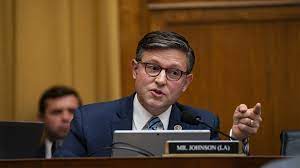 Trump Impact Evident in Emmer's Demise

Trump blasted Emmer as a "RINO" after initially endorsing his bid. The former president then took credit for Emmer's withdrawal after members of Trump's team lobbied Republicans to oppose him over issues like debt ceiling votes.
Despite Emmer insisting he and Trump had a good relationship, the attacks underscored Trump's influence in the process.

No End in Sight for Speaker Stalemate

With Mike Johnson still short of votes for Speaker, the GOP impasse continues. Some Republicans have suggested unusual solutions like McCarthy becoming "assistant Speaker" under Jim Jordan.
But the conference remains bitterly split three weeks in. One member warned the GOP seems "hopelessly divided" and at an "impasse." For now, another failure looms as the Speaker crisis drags on.

The rapid nomination of Mike Johnson after Emmer's withdrawal shows the GOP scrambling to find any solution to the ongoing Speaker debacle. However, the party remains fundamentally divided, and it is unclear if anyone can unify the warring factions.