LEGO and Nintendo are collaborating on Animal Crossing building sets, as announced in a Nintendo teaser trailer.
"Welcome to…LEGO Animal Crossing!" Nintendo's European social media handle proclaimed, showcasing the characters in LEGO form.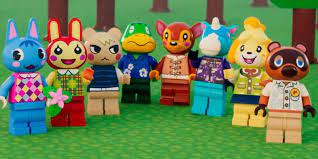 Animal Crossing is a popular Nintendo game where players inhabit a charming island as animal villagers. They befriend neighbors, complete tasks for bells currency, and decorate their village.

LEGO Animal Crossing will bring the game to life. The teaser features fan favorites like Marshall, Bunnie, Julian and more in LEGO style.
As per the reports, there will be five building sets priced between $14.99 and $74.99.
By uniting, LEGO and Nintendo have crafted an exciting new way for fans to immerse themselves in Animal Crossing.
Now players can tangibly recreate the whimsical village and beloved characters through imaginative building kits. It's a collaboration sure to delight gamers and LEGO enthusiasts alike.