Longtime Boston Red Sox pitcher Tim Wakefield passed away Sunday at the age of 57 after a short battle with brain cancer, the team announced.
Just three days prior, it was publicly revealed that Wakefield was facing an aggressive form of the disease. He had undergone surgery a couple of weeks ago but ultimately succumbed to the cancer.

With his signature knuckleball, Wakefield became the third-most-winning hurler in Red Sox franchise history over his storied career.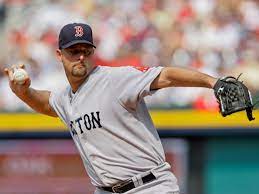 He was a core member of two Boston World Series championship squads. Wakefield is survived by his wife Stacy, son Trevor, and daughter Brianna.

MLB Commissioner Rob Manfred released a statement expressing his sorrow over the passing of former Boston Red Sox pitcher Tim Wakefield.
In the statement, Manfred said, "We are deeply saddened by the loss of Tim Wakefield, one of the most unique pitchers of his generation and a key part of the most successful era in the history of the Boston Red Sox."