The powerful Sai Kasht Nivaran mantra is also called by different names by different people, like Sai Sankat Nivaran mantra, Sai disease prevention mantra, Sai Dukh Nivaran mantra, and so on.
Sai Kasht Nivaran Mantra
Chanting of Sai Kasht Nivaran mantra with full devotion is believed to please Sai Baba and to get the blessings of the great spiritual saint of India.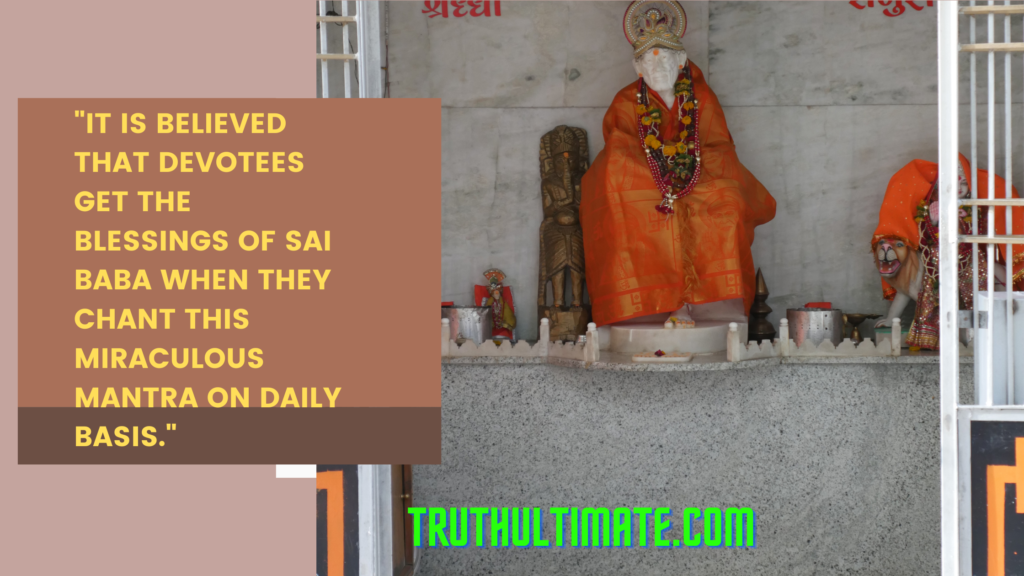 It is believed that devotees get the blessings of Sai Baba when they chant this miraculous mantra on daily basis.
Chanting this mantra is also believed to bring lots of happiness, abundance, and peace to you and your entire family. 
Shirdi Sai Baba
Shirdi Sai Baba is an Indian saint and spiritual guru, widely regarded by his followers as a great and holy saint. He is revered in equal measure by all segments of society including Hindus and Muslims.
Reciting the mantra dedicated to Sai Baba regularly is believed to help get rid of all problems and miseries in one's life. 
Sai Kasht Nivaran Mantra Lyrics
Sai Kasht Nivaran Mantra lyrics are given below. Regularly chanting this mantra helps devotees get rid of their problems and difficulties.
Sadguru Sai Nath Maharaj ki jai ||
Kashton ki kaali chhaya dukhdayi hai,
Jeevan me ghor udaasi layi hai…
Sankat ko taalo Sai duhayi hai,
Tere siwa na koi sahayi hai…
Mere mann teri murat samayi hai,
Har pal har kshan mahima gayi hai…
Ghar mere Kashton ki aandhi aayi hai,
Aapne kyun meri sudh bhulayi hai…
Tum bholenath ho daya nidhan ho,
Tum hanuman ho maha balwan ho…
Tumhi ho ram aur tumhi shyam ho,
Saare jagat mein tum sabse mahan ho…
Tumhi Mahakali tumhi maa Shaarade,
Karta hoon prathana bhav se taar de…
Tumhi Mohammad ho gareeb Nawaz ho,
Nanak ki vaani mein eesa ke saath ho…
Tumhi Digambar tumhi Kabir ho,
Ho budh tumhi aur Mahaveer ho…
Saare jagat ka tumhi aadhar ho,
Niraakar bhi aur saakar ho…
Karta hoon Vandana prem vishwas se,
Suno Sai Allah ke vaaste…
Adharo pe mere nahi Muskaan hei,
Ghar mera rehane laga viraan hei…
Reham nazar karo ujhade viraane pe,
Zindagi sawaregi ek vardan se…
Paapo ki dhoop se tan laga haarne,
Aapka ye das laga pukaarne…
Aapne sada hi laaj bachayi hai,
Der na ho jaaye man shankayi hai…
Dheere Dheere Dheeraj hi khota hai,
Mann mein basa vishwas hi rota hai…
Meri Kalpana saakar kar do,
Sooni Zindagi me rang bhar do…
Dhote dhote paapon ka bhaar Zindagi se,
Main gaya haar Zindagi se…
Naath avgun ab to bisaaro,
Kashton ki lehar se aake ubaaro…
Karta hoon paap main paapo ki khan hoon,
Gyaani tum gyaaneshwar main agyan hu…
Karta hoon pag pag par paapo ki bhool main,
Taar do jeevan charno ki dhool se…
Tumne ujda hua ghar basaya,
Paani se Deepak bhi tumne jalaya…
Tumne hi Shirdi ko dhaam banaya,
Chhote se gaon mein swarg sajaya…
Kasht paap shrap utaro,
Prem daya Drishti se nihaaro…
Aapka daas hu aise naa taaliye,
Girne laga hoon Sai sambhaliye…
Saiji balak main anaath hoon,
Tere bharose rehta din raat hoon…
Jaisa bhi hoon, hoon to aapka,
Keeje nivaran mere santaap ka…
Tu hain sawera aur main raat hoon,
Mel nahi koi phir bhi saath hoon…
Saiji mujhse much naa modo,
Beech majhdaar akela na chodo…
Aapke charno main base praan hain,
Tere vachan mere guru saman hain…
Aapki raah pe chalta daas hain,
Khushi nahi koi jeevan udhas hain…
Aansoo ki dhaara main doobta kinaara,
Zindagi main dard, nahi guzaara…
Lagaya chaman toh phool khilaao,
Phool khile hain toh Khushboo bhi laao…
Kar do ishaara to baat ban jaaye,
Jo kismat me nahi who mil jaaye…
Beeta zamana ye gaake fasana,
Sarhade Zindagi maut tarana…
Der to ho gayi hai andher na ho,
Fikr mile lekin fareb na ho…
Deke taalo ya daaman bacha lo,
Hilne lagi rehnumayi sambhalo…
Tere dam pe Allah ki shaan hain,
Sufi santon ka ye bayan hain…
Gareebon ki jholi me bhar do Khazana,
Zamane ke wli na karo bahana…
Dar ke bhikhari hain mohtaaj hain hum,
Shehenshah aalam karo kuch karam…
Tere khazaane mein Allah ki rehmat,
Tum sadguru Saiji ho Samarth…
Aaye ho dharti pe dene sahara,
Karne lage kyun humse kinaara…
Jab tak ye brahmand rahega,
Sai tera naam rahega…
Chaand sitare tumhe pukaarenge,
Janmojanam hum rasta nihaarenge…
Aatma badlegi chole hazar,
Hum milte rahenge baarambar…
Aapke kadmo mein baithe rahenge,
Dukhde dil ke kehete rahenge…
Aapki marzi hai do ya na do,
Hum to kahenge daaman hi bhar do…
Tum ho dhata hum hain bhikaari,
Sunte nahin kyun araz hamari…
Achcha chalo ek baat bata do,
Kya nahin tumhaare paas bata do…
Jo nahin dena hain inkaar kar do,
Khatam ye aapas ki takrar kar do…
Laut ke khali chala jaaunga,
Phir bhi gun tere gaaunga…
Jab tak kaaya hai tab tak maaya hain,
Isi main dukhon ka mool samaya hain…
Sab kuch jaan ke anjaan hu main,
Allah ki tu shaan teri shaan hu main…
Tera kadam sada sabpe rahega,
Ye chakra yug yug chalta rahega…
Jo praani gayega Saiji tera naam,
Usko mukthi mile pahuche param dhaam…
Ye mantra jo praani nit din gaayenge,
Raahu ketu shani nikat na aayenge…
Tal jaayenge sankat saare,
Ghar main vaas karen such saare…
Jo shraddha se karega pathan,
Us par dev sabhi ho prasann…
Rog samool nasht ho jaayenge,
Kasht nivaran mantra jo gaayenge…
Chinta harega nivaran jaap,
Pam main door ho sab paap…
Jo ye pustak nit din baanche,
Shri Lakshmi ji ghar uske sada viraaje…
Gyan buddhi praani wo paayega,
Kasht nivaran mantra jo dhyayega…
Ye mantra bhakto kamal karega,
Aayi jo anhoni to taal dega…
Bhoot pret bhi rahenge door,
Is mantra main Sai shakthi bharpoor…
Japte rahe jo mantra agar,
Jaado tona bhi ho beasar…
Is mantra main sab gun samaye,
Na ho bharose tho aazmaye…
Ye mantra Saiji vachan hi jaano,
Swayam amal kar satya pehchchano…
Sanshay na laana vishwas jagana,
Ye mantr sukhon ka hain khazana…
Is pustak main Sai ka vas,
Jai Sai Shri Sai Jai Jai Sai…
Om Sai Ram!!!
Sai Kasht Nivaran Mantra Benefits
Regularly chanting Sai Kasht Nivaran Mantra helps bring back lost happiness, wealth, and prosperity. 
Removes all problems and fears from your life while ushering in happiness and joy in you.
People seeking solutions to issues surrounding life, relationship, and career get benefited by reciting the mantra.
Regularly reciting Sai Kasht Nivaran Mantra helps get rid of difficulties surrounding health and financial troubles.
Sai Kasht Nivaran Mantra Miracles
There is a devotee who claims she felt better in her relationship after reciting Sai Kasht Nivaran Mantra regularly.
Incidentally, there was a small misunderstanding between her and her partner. Thanks to this misunderstanding, her partner stopped talking to her for several months.
After waiting for a lot of time, when she made a move to reconcile with her partner, the effort didn't bear any fruit.
After reciting the mantra with full devotion, one day she got the surprise of her life when her partner reached out to her and started talking to her gently and putting their relationship back on track.
A devotee from the US claims to have experienced a miracle in her life after chanting Sai Kasht Nivaran Mantra with full devotion.
Her husband is an IT employee and was seeking an extension of his visa and project.
Incidentally, both the visa duration and project deadline were on the verge of completion.
Thankfully, the prayers were answered and the couple got the good news of extensions of the project and visa almost at the same time.