In an unexpected twist of fate, the world recently bore witness to a charming union of two couples, the remarkable Sophia Bush and Ashlyn Harris, along with the ever-stylish Stacy London and her girlfriend, Cat Yezbak.
Little did we know that this "cosy" double date had taken place just a few weeks before the sensational news of Sophia and Ashlyn's blossoming relationship.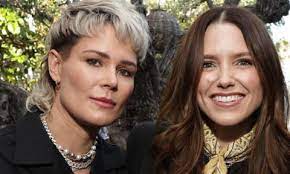 A Star-Studded Encounter

The magical rendezvous unfolded on September 29, at the illustrious Beacon Theatre in New York City, during one of Chelsea Handler's shows.
An insider revealed that Ashlyn surreptitiously joined Stacy, Cat, and Sophia at the event, cleverly concealing her identity behind a mask.
While it may not have been immediately apparent that this was a double date, the moment became clear when Stacy graciously shifted her seating arrangement, allowing Ashlyn to nestle closer to Sophia.

The Understated Romance

Though the evening may not have featured any ostentatious public displays of affection, onlookers couldn't help but notice the undeniable chemistry between Ashlyn and Sophia.
The couple, affectionately dubbed "Bushlyn" by those in the know, radiated an undeniable warmth that hinted at a deeper connection.

From Cannes to Coupled Bliss

Their love story began against the backdrop of the scenic South of France at the Cannes Lions International Advertising Festival in June. As fate would have it, they graced a panel discussing branding, an experience that Sophia celebrated on her Instagram, referring to her companions as "trailblazing women."
The event, hosted by Stagwell, focused on the potential of profound creative partnerships in challenging societal norms and empowering women in the realm of sports.

Moreover, during their time at the festival, both Sophia, 41, and Ashlyn, 37, attended an intimate Spotify soirée featuring a captivating performance by Florence & the Machine.
A source privy to the inner workings of their budding romance disclosed, "It's very new. They are a couple."

Separation and New Beginnings

Coincidentally, shortly after this revelation, it came to light that Sophia had filed for divorce from her second husband, Grant Hughes. In a parallel twist, Ashlyn Harris had also initiated divorce proceedings with her spouse, the fellow soccer luminary Ali Krieger, with whom she shares two young children.