Vaishnav Jan to tene kahiye is a famous Gujrati hymn closest to the heart of the father of the nation, Mahatama Gandhi, penned centuries back.
This Gujarati hymn dates back to the 15th century. Moreover, we have seen the elements of this hymn in various movies and have listened to many versions of it.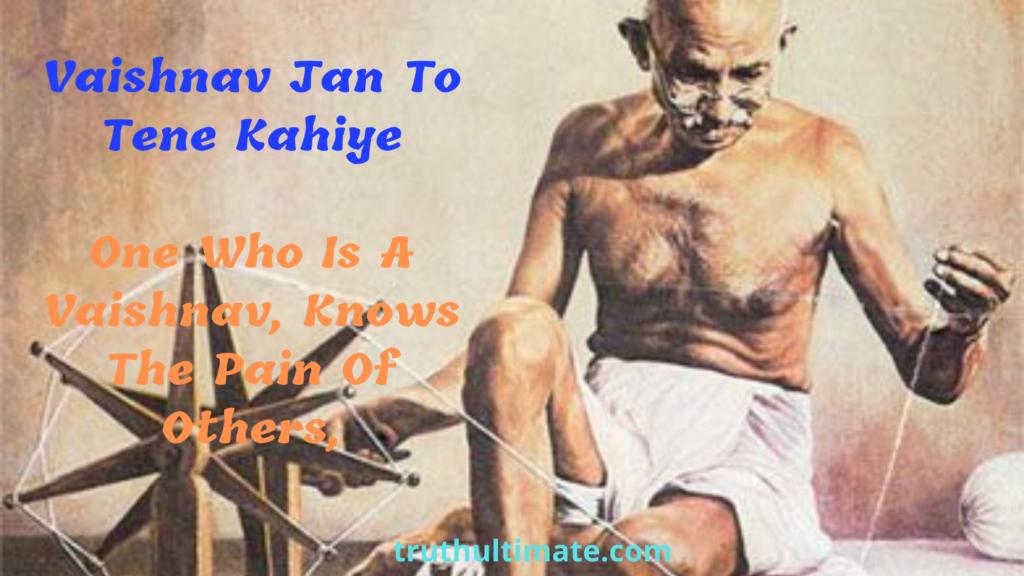 It is among the most liked and favorited Bhajans of Mahatama Gandhi.
Like is a small word because Mahatama Gandhi loved this hymn, and he used to include this into the roster of prayers routinely sung before his meetings.
Furthermore, the bhajan is quite spiritual and points towards the best virtues of life.
Vaishnav Jan To Tene Kahiye Meaning
This verse's meaning is simply very interesting and holds the true essence of spirituality.
"Only he is a man of God" is the true meaning of this verse.
But, that's not the end, the verse continues towards discussing the virtues that are important for being a man of God.
Although, it's quite easy to say that we all are the child of God, and there is no doubt about it.
But, not everyone is the blessed one and is the man of God.
The man who lies, who is dishonest, and who promotes bad deeds in society can never be a man of God.
Your success, fame, and wealth don't make you a better or bigger person in the eyes of God.
But, your good deeds, high virtues, and good moral character definitely make you a better person in the eyes of God.
One who does everything to save humanity and the one who preserves the cultures and traditions rightfully without bringing negativity in life is the one who prospers in the world here and even hereafter.
Bring positivity, and your life will be full of happiness and success.
A man who is good to the people and works on the right path is never disappointed by God.
Vaishnav Jan to tene kahiye written by
As we have established earlier that this bhajan is a Gujrati hymn written in the 15th century.
But, who is the one who wrote this popular hymn? The poet is Narsinh Mehta.
The poet is also known by the name of the Narsi Bhagat. He was notable and famous as a bhakta, an exponent of Vaishnava poetry.
Furthermore, he is especially revered in Gujarati literature, and here he is acclaimed as its Adi Kavi.
Adi Kavi means first among poets. He is the pioneer poet of Gujarati literature.
Mehta is famous for his literary forms called "pada (verse)", "Akhyana" and "Prabhatiya" (morning devotional songs).
Moreover, the most important feature of Mehta's works is that they are not available in the language in which Narsinh had composed them as they have been largely preserved orally.
Because of the immense popularity of his works, their language has undergone modifications with changing times.
Narsinh Mehta wrote many bhajans and Aartis for Lord Krishna, which you can see published in many books.
Apart from this popular bhajan, Mehta has given Gujrati literature many other bhajans and works that are notable even in this modern world.
Especially, his bhajans and his work are the need of the hour.
His work negates negativity and brings the essence of positivity to this hate-filled world.
Narsinh had lived his life in poverty and had seen some hard times, but his faith in Lord didn't change. In the eyes of God, he was a notable person.
His dedication and faith gave him fame even after the centuries.
Mehta will forever live in the hearts of the "man of God" and be remembered for his poetic works and devotion to Lord Krishna.
Vaishnav jan to tene kahiye in Gujrati
Here is the original transcript of this popular hymn.
The popular hymn is in Gujarati; hence we are here with the Gujarati version.
જન વૈષ્ણવ તો તેને કહિયે
જે પીડ પરાઈ જાણે રે
પર દુ: ખે ઉપકાર કરે તો યે
મન અભિમાન ન આણે રે K
લોકમાં સકળ સહુને વંદે,
નિંદા ન કરે કેની રે
વાચ કાછ મન નિર્મળ રાખે
ધન ધન જનની તેની રે K
ને સમદૃષ્ટિ તૃષ્ણા ત્યાગી
પરસ્ત્રી જેને માત રે
જિહ્વા થકી અસત્ય ન બોલે
પરધન નવ ઝાલે હાથ રે K
માયા મોહ વ્યાપે નહિ જેને,
દૃઢ વૈરાગ્ય જેના મનમાં રે
રામ નામ શુ તાળી રે લાગી
સકળ તીરથ તેના તનમાં રે K
લોભી વણ ને કપટ રહિત છે,
કામ ક્રોધ નિવાર્યાં રે
ભણે નરસૈયો તેનું દર્શન કરતાં
કુળ એકોતેર તાર્યાં રે
Vaishnav jan to tene kahiye lyrics
Here are the complete lyrics of the bhajan "Vaishan Jan to Tene Kahiye" by the famous Gujrati poet.
वैष्णव जन तो तेने कहिये, जे पीड परायी जाणे रे।
पर दुःखे उपकार करे तो ये, मन अभिमान न आणे रे॥
सकळ लोकमां सहुने वंदे, निंदा न करे केनी रे।
सकळ लोकमां सहुने वंदे, निंदा न करे केनी रे।
वाच काछ मन निश्चळ राखे, धन धन जननी तेनी रे॥
समदृष्टि ने तृष्णा त्यागी, परस्त्री जेने मात रे।
मोह माया व्यापे नहि जेने, दृढ़ वैराग्य जेना मनमां रे।
रामनाम शुं ताळी रे लागी, सकळ तीरथ तेना तनमां रे॥
वणलोभी ने कपटरहित छे, काम क्रोध निवार्या रे।
भणे नरसैयॊ तेनुं दरसन करतां, कुळ एकोतेर तार्या रे॥
Transliteration: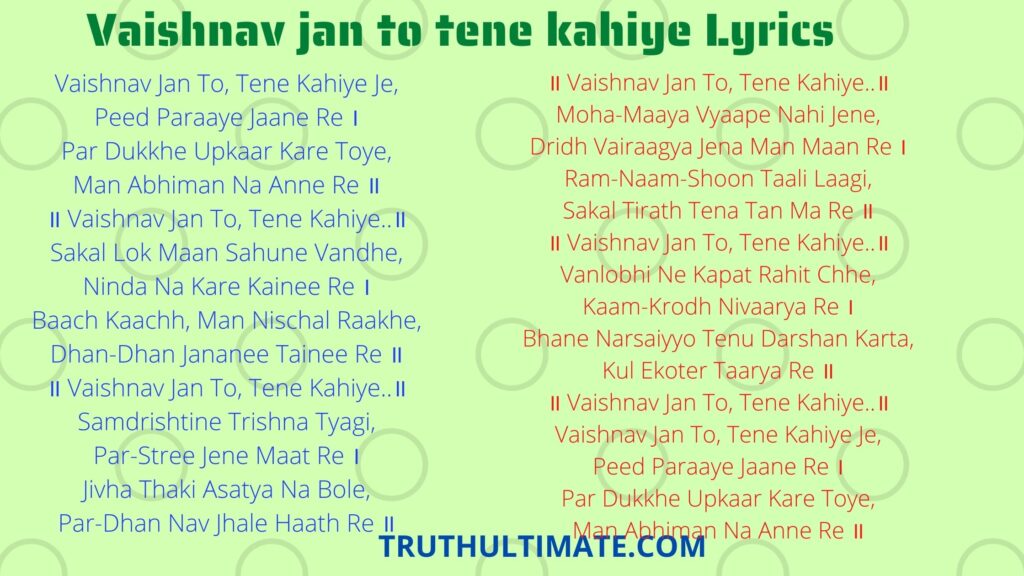 Vaishnav Jan To, Tene Kahiye Je,
Peed Paraaye Jaane Re ।
Par Dukkhe Upkaar Kare Toye,
Man Abhiman Na Anne Re ॥
॥ Vaishnav Jan To, Tene Kahiye..॥
Sakal Lok Maan Sahune Vandhe,
Ninda Na Kare Kainee Re ।
Baach Kaachh, Man Nischal Raakhe,
Dhan-Dhan Jananee Tainee Re ॥
॥ Vaishnav Jan To, Tene Kahiye..॥
Samdrishtine Trishna Tyagi,
Par-Stree Jene Maat Re ।
Jivha Thaki Asatya Na Bole,
Par-Dhan Nav Jhale Haath Re ॥
॥ Vaishnav Jan To, Tene Kahiye..॥
Moha-Maaya Vyaape Nahi Jene,
Dridh Vairaagya Jena Man Maan Re ।
Ram-Naam-Shoon Taali Laagi,
Sakal Tirath Tena Tan Ma Re ॥
॥ Vaishnav Jan To, Tene Kahiye..॥
Vanlobhi Ne Kapat Rahit Chhe,
Kaam-Krodh Nivaarya Re ।
Bhane Narsaiyyo Tenu Darshan Karta,
Kul Ekoter Taarya Re ॥
॥ Vaishnav Jan To, Tene Kahiye..॥
Vaishnav Jan To, Tene Kahiye Je,
Peed Paraaye Jaane Re ।
Par Dukkhe Upkaar Kare Toye,
Man Abhiman Na Anne Re ॥
Translation: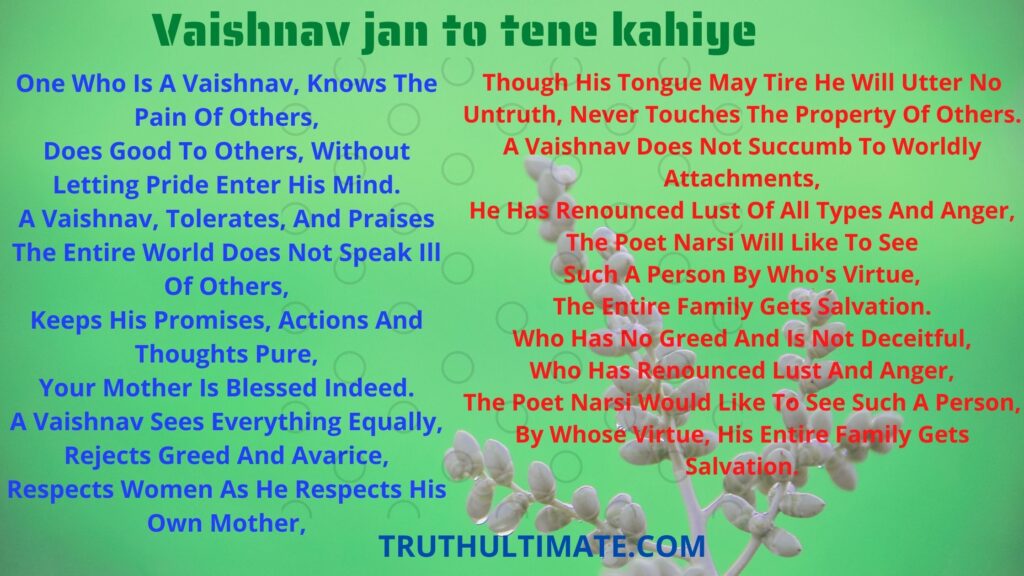 One Who Is A Vaishnav,
Knows The Pain Of Others,
Does Good To Others,
Without Letting Pride Enter His Mind.
A Vaishnav, Tolerates, And Praises
The Entire World Does Not Speak Ill Of Others,
Keeps His Promises, Actions, And Thoughts Pure,
Your Mother Is Blessed Indeed.
A Vaishnav Sees Everything Equally,
Rejects Greed And Avarice,
Respects Women As He Respects His Own Mother,
Though His Tongue May Tire He Will Utter No Untruth,
Never Touches The Property Of Others.
A Vaishnav Does Not Succumb To Worldly Attachments,
He Has Renounced Lust Of All Types And Anger,
The Poet Narsi Will Like To See
Such A Person By Who's Virtue,
The Entire Family Gets Salvation.
Who Has No Greed And Is Not Deceitful,
Who Has Renounced Lust And Anger,
The Poet Narsi Would Like To See Such A Person,
By Whose Virtue, His Entire Family Gets Salvation.
Vaishnav Jan To Tene Kahiye song
Vaishnav Jan To Tene Kahiye is a popular hymn; hence it is adapted by many artists, and we have seen many versions of it.
Obviously, the lyrics remain the same with every artist and every song. But, we have various versions.
The popular is the Lata Mangeshkar adaptation. 
Some elements of this bhajan were included in many films, both the foreign ones and the Bollywood ones:
In Bollywood films like:
Water (2005)
Cheeni Kum (2007)
Road to Sangam (2009)
Moreover, that's not the end; the bhajan or the hymn is used as the title song for several Indian films countrywide.
In the Telugu movie Prathinidhi (2014), the first stanza of the song is used, and that too during the climactic scene.
In the Malayalam movie Indian Rupee (2011), the first stanza of the song is used in the climactic scene, sung by Bombay Jayashri.
Also, the song was a part of the Gujarati biopic of the author Kuvar bainu Mameru (1974).
A Bengali adaptation of the song by Anindya Chatterjee was sung by Shreya Ghoshal in the Bengali movie Gotro (2019).
Apart from this, in the year 1998, this song was rendered in a single album by classical vocalists Gangubai Hangal and Pandit Jasraj.
Moreover, the pop singer Remo Fernandes along with Sarod musician Amjad Ali Khan, Pandit Narayan on the sarangi, and flute musician Hariprasad Chaurasia.
Also, santoor exponent Shivkumar Sharma played an instrumental rendition of the popular hymn.
The popular hymn by Mehta was the favorite of Mahatama Gandhi.
On 2 October 2018, musicians from 124 countries paid homage to him by performing a rendition of the song.
Lata Mangeshkar Vaishnav Jan to tene kahiye
We all know that the lata Mangeshkar version of the Vaishnav Jan to tene kahiye is the most popular one. Here are all the details of that version of the bhajan.
Album: Bhajan Mala
Singer: Lata Mangeshkar
Duration: 4 Minutes & 15 Seconds
Vaishnav Jan To Tene Kahiye Essay
As we established earlier that the hymn is a Gujarati song in the genre of Bhajans.
Bhajans are the devotional songs in the religion of Hinduism and also draw some ideas from Jain traditions.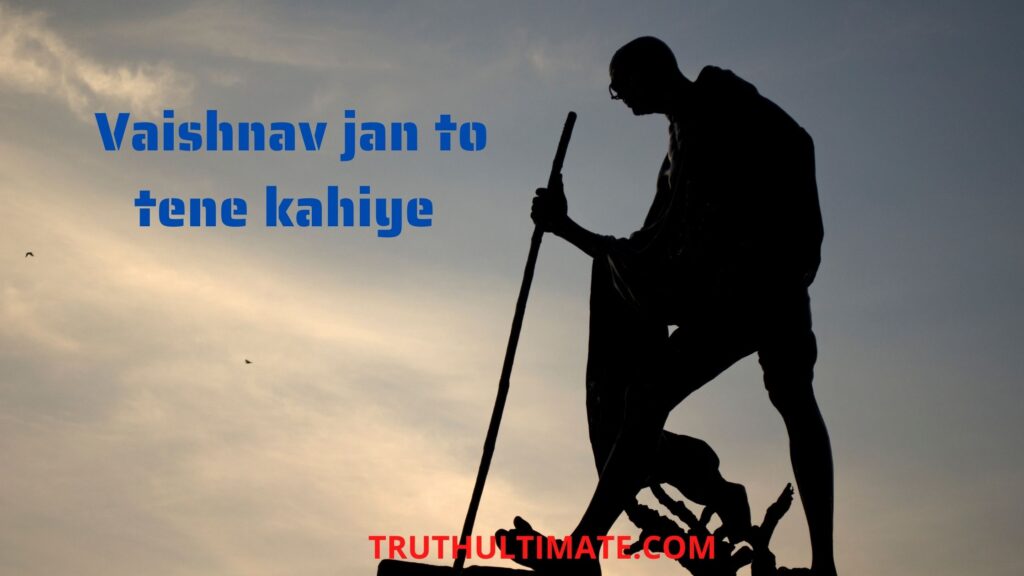 Bhajans are highly accepted and revered in Gujarat, India as they draw upon concepts from Krishna consciousness.
The idea of giving up material desires and freeing oneself from illusion (Maya), along with the importance of the high virtues, is really necessary for bringing peace.
We live in a world where hate is the dominant characteristic, and people often tend to think about themselves only!
You can only imagine a person who ceases to be selfish; do you think he would be happy?
No, he won't be! He may be suffering in one way or other.
Hence, it's really important to work for the welfare of others and think about the people around you.
Many of us might have experienced the sheer joy of working for others, the joy for working for the public good, the joy of contributing to society and mankind.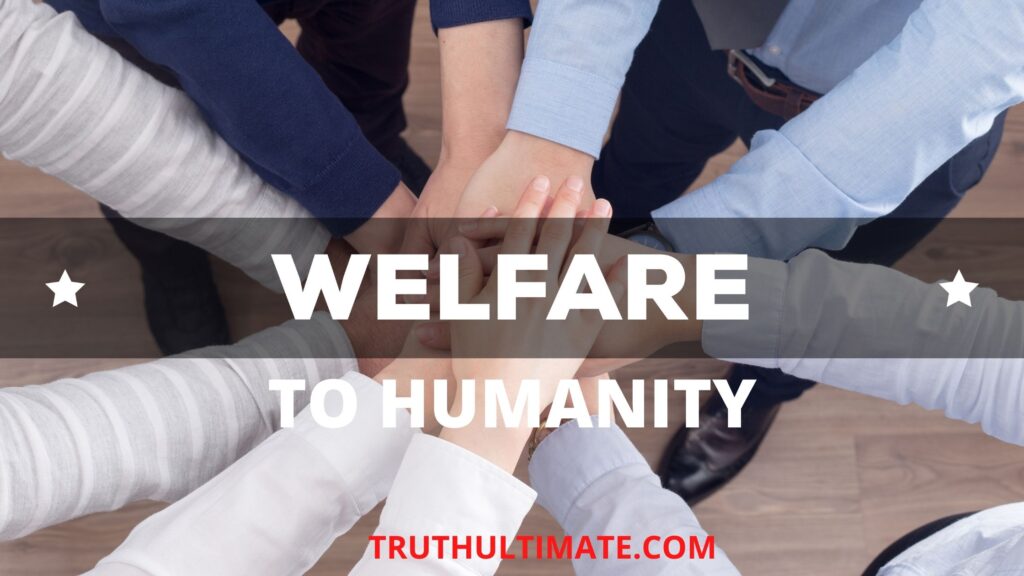 Do this without any selfishness, and you will be a happy person with peace in your heart and feelings of relaxation.
Without asking this question, "What is in there for me?" you can work for the people around you and make them happy. The feeling after this will be priceless!
Another problem that the modern world is facing is that everybody is on their own. Everybody is busy thinking, what can I do for myself?
What can I do to solve my problems? But that's not the reason we are here in this world.
We are here to help others; we are here to look after the needy ones if we are capable of.
And, this is the problem with the individual people today, the problem with politics today, the problem with the business today.
With time, fewer and fewer people are asking these questions, "How May I Help You ?" "What Can I Do For You ?"
"What Can I do For the Society or mankind". The number of people who are working for the welfare of humanity.
Nowadays, more and more people are focusing on these questions, "What Is There In It For Me ?"
"Why Should I Help You?" "Why Should I Lend Support to Social Causes?".
And this is the reason we as a society and we as a nation are moving backward.
That's the reason why today there has been a lot of value deterioration, which is evident in every sphere of life.
This is the reason we lack our virtues and ethics, and the young generation is losing grasp of the values.
We need to be more empathetic towards the people around us, and that's how we can attain peace and be the "man of God."
A person who has completely eschewed from his mind the negative feelings and does not hate anyone and is not Angry, how will be his life?
His life will be different from us, or the people who are constantly thinking of how to get success and wealth and are ready to go any miles for that.
This type of person will always be worried while the person who is full of Love, Care, and Compassion knows the worth of life.
He knows how you can achieve peace and how you can be happy in life. Can you picture the quality of life of such a person?
He is living the best life. A person who is full of greed and lust is a disappointment for everyone.
He will bring disaster for him as well and the people around him.
A person who is in "Samatvam" or a 'STHITAPRAGNYA or the one whose intelligence is fixed in self-realization or a man with fixed wisdom will live his life differently than others.
Like, he treats Praise and Abuse at the same level, and treats Happiness and Misery as equal.
Even if you are the one who does not complete the final process of eradicating the 'I'. You are still successful.
The consciousness of the improvement in the quality of life is still worthy of all the efforts.
After all, we are humans, and lust, greed, power of wealth, fame, success, and hate may dominate other good virtues.
But, we can try, although the process is very long, and eradicating it completely may take time. But, what matters the most is your intentions.
The relevance of spiritual values in modern life really comes to this.
You may believe in the spiritual dimension or not, the process of transcendence of the gross mind improves the quality of your life and brings positivity.
The critical mass of the society is to achieve this limited goal of attaining good virtues.
Once people try to attain this and are successful in achieving it, that's time the transformation of society will begin.
Love, Kindness, and Compassion are universal and apply to everyone in this society.
Be it from any caste, any religion, or any social class, love and kindness should remain there.
If you lack these basic virtues, you are not on the right path.
If you judge others on who they are and what they possess, your views are problematic.
Religion has no place for a person who is full of hate and is judgemental.
Sometimes, just being loving, kind, and compassionate allows others to see the goodness in HUMANITY through you.
So you should always be loving and kind, even more than necessary.
Being human what matters most is that you must be a genuine human being, full of truth, love, compassion, kindness, care, understanding, help & do good for others.
It's a very simple point that this meaningful, soulful hymn connects everyone.
Your soul and light should shine as inspiration to humanity and be why someone believes in the goodness of society and the goodness of individuals.
Courtesy: Google images
References:
https://www.bhaktibharat.com/bhajan/vaishnav-jan-to-tene-kahiye-je
https://www.bhaktibharat.com/en/bhajan/vaishnav-jan-to-tene-kahiye-je
https://www.shivpreetsingh.com/2018/12/vaishnav-jan-to-tene-kahiye-je-lyrics.html
https://en.wikipedia.org/wiki/Vaishnava_Jana_To
https://www.petervis.com/gallery/web/bollywood-translations/vaishnava-jana-to-english-translation.html