Yatha Raja Tatha Praja- a great Sanskrit verse is having quite a profound philosophy. It is one of the many Sanskrit proverbs used frequently in the Hindu community. This proverb is the end phrase of a complete Sanskrit shloka. The shloka is an exceptional piece of intellect that covers the comprehensive aspect of human behavior, wisdom, and conscience.

Proverb usually makes an integral part of our lifestyle and societal order. It reflects a level of intellect and boosts the mind towards a better understanding of philosophical and rational thinking. It is the easiest yet time-tested and highly educated way of delivering notions and thoughts. With the use of limited words, one can express infinite opinions. Yatha Raja Tatha Praja is also such a great verse that has a great educational and ethical value.
Yatha Raja Tatha Praja Meaning
Yatha Raja Tatha Praja is a Sanskrit verse. This verse is quite popular and is frequently used in conversations. The meaning of this proverb is,
"As the Ruler, So the People."
However, when we look into the context of these phrases, we will understand the actual philosophy behind them. Here, "king" means someone who is the in-charge, a head, or a supervisor of something. And the "subjects" means those who are under the supervision of someone, the followers, or the groups.
This phrase highlights that when the head or the leader makes wrong decisions or his acts are not righteous, his followers or supporters make exact similar decisions. If a ruler of someplace is evil or wicked, his followers or the people also resemble the same. The nature and the actions of the supervisor imparts a similar change in the reactions of its followers.
It is like that the one who is the head of something is responsible and accountable for his each and every action. Because he is the one to whom thousands of people look up for guidance and inspiration. So, if you reap a good seed, you'll get fruitful results, but if you reap evil, you'll get nothing but foulness.
Yatha Raja Tatha Praja in Sanskrit
Yatha Raja Tatha Praja is a Sanskrit proverb. It is often used in many languages spoken all over India. This phrase is a part of many Sanskrit Subhashitas. These Subhashitas are beautiful works of poetry and philosophy of many Sanskrit writers. These poetries cover various aspects of philosophical and intellectual topics.
Yatha Raja Tatha Praja is also a part of such Sanskrit epigrams. The Sanskrit transcript of this phrase follows a whole aphorism. It goes as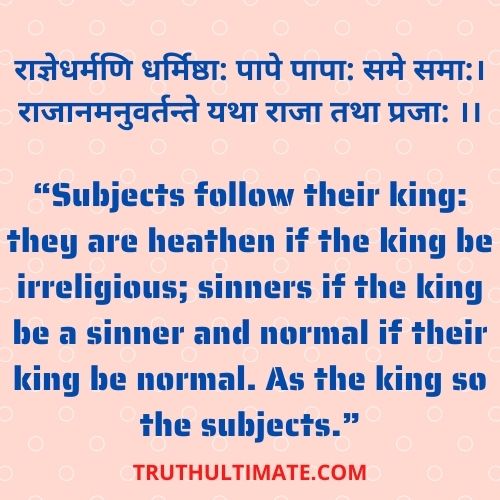 राज्ञेधर्मणि धर्मिष्ठा: पापे पापा: समे समा:।
राजानमनुवर्तन्ते यथा राजा तथा प्रजा: ।।
Raagye Dharmani Dharmishthaah Paape Paapaah Same Samaah |
Rajanamanuvartante Yathaa Raajaa tathaa Prajaa ||
"Subjects follow their king: they are heathen if the king be irreligious; sinners if the king be a sinner and normal if their king be normal. As the king so the subjects."
This phrase tells so much about the actions and reactions of people. It is the nature of humans to follow in the footsteps of someone they worship. So, is true that when a head or a leader preaches something, the entire fanship follows him.
The religious point of view of this Subhashita tells us that when the ruler is a sinner, the civilians also become the sinner. Because if he is irreligious, the people also find it okay to become irreligious. If the ruler is corrupt, then corruption eventually becomes a normal thing to practice on small or large scales.
Thus, the role of a ruler or the leader holds a very significant place in shaping the minds and morals of a society.
Yatha Raja Tatha Praja Source
Yatha Raja Tatha Praja is Sanskrit in origin. This proverb is quite diverse, and it got abstracted from many sources. These sources include the Sanskrit Subhashitas and the Arthashasthra. The Arthashasthra- a book by Chanakya is an Indian Sanskrit transcript. This book is a comprehensive verdict on economic, cultural, religious, and political topics.
The abstract from Sanskrit Subhashitas has quoted this phrase many times at different epigrams. One of them is from quote 3570 of Maha Subhashita Samragha. It says,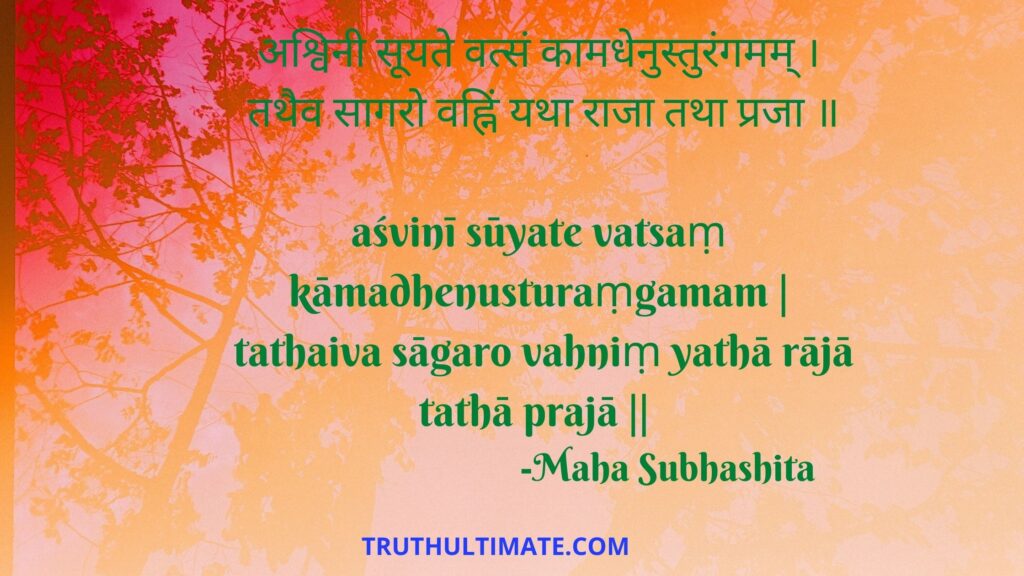 अश्विनी सूयते वत्सं कामधेनुस्तुरंगमम् ।
तथैव सागरो वह्निं यथा राजा तथा प्रजा ॥
aśvinī sūyate vatsaṃ kāmadhenusturaṃgamam |
tathaiva sāgaro vahniṃ yathā rājā tathā prajā ||
In Arthashasthra, Chanakya quoted this phrase as,
राज्ञेधर्मणि धर्मिष्ठा: पापे पापा: समे समा:।
राजानमनुवर्तन्ते यथा राजा तथा प्रजा: ।।
Raagye Dharmani Dharmishthaah Paape Paapaah Same Samaah |
Rajanamanuvartante Yathaa Raajaa tathaa Prajaa ||
Both of these transcripts used the phrase "Yatha Raja Tatha Praja" to describe various events. But the beauty of this phrase is that it complimented both the shlokas in all aspects.
Yatha Raja Tatha Praja Essay
Yatha Raja Tatha Praja is a Sanskrit proverb. It is widely used in the Hindu community. The phrase is beautifully constructed and is quite appealing. Not only does it imply the true nature of humankind but also reflects a bigger picture of our society. This phrase is wholesome, and it outlines the accurate characteristics of people and their influence on others.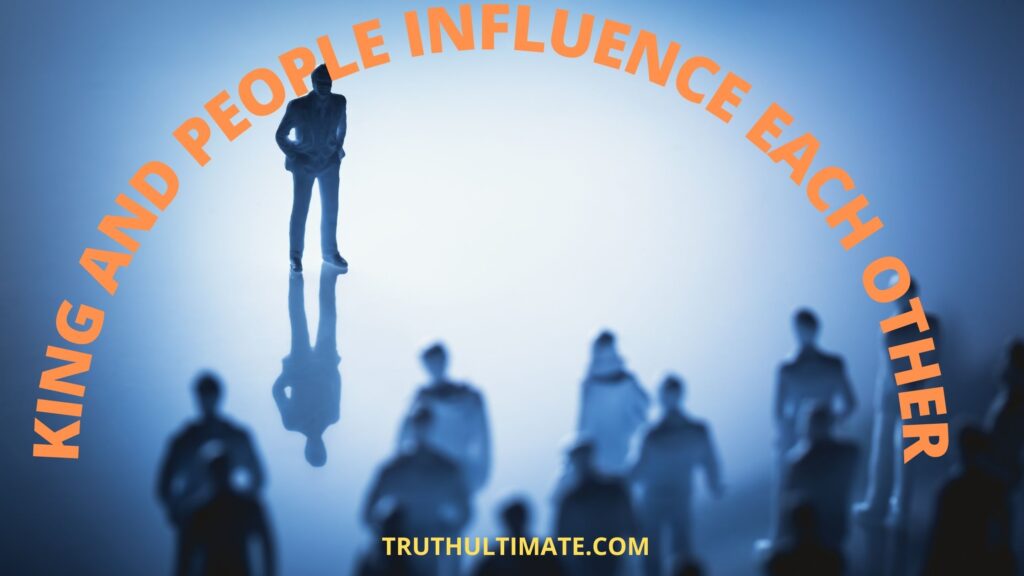 The Sanskrit language has a broad spectrum of literary works. It has beautiful cultivation of epiphanies, proverbs, shlokas, and beliefs. The exquisiteness of the Sanskrit language reflects in all of them. This phrase is also a part of many Sanskrit verdicts. These include the Sanskrit Subhashitas and the book by Chanakya- the Arthashasthra.
The Subhashitas is a compilation of Sanskrit poetry that is a lot different from the usual poetry. These Sanskrit poetries are intellectual, factual, and philosophical pieces of works. They reflect on the lives of humans religiously, traditionally, and personally.
Arthashsthra is also among the prestigious books of Hinduism. In the Arthashasthra, this proverb is also quoted by the writer Chanakya. This book is an exceptional work of Chanakya that is a treatise on various aspects of human life. it covers dozens of economic, religious, political, and traditional phases of life. It is a comprehensive guide on leading a life as per the divine guidelines.
The meaning of this proverb is quite deep and philosophical. It demonstrates the influence of leaders on their followers. When a ruler or the leader has some qualities either good or bad. The followers possess the same qualities. Obviously, it does not speak for every particular individual and his character. But on a broad scale, this proverb proves itself accurately correct.
If we observe, we'll notice that the fundamental aspects of the personalities of individuals resemble their leaders. If a ruler is evil and if corruption is his key feature, then the society is also full of such people who are corrupt and immoral. You'll find a very small ratio of people who are morally fine, despite the corrupt monarch.
At present, we have dozens of examples of such states that have corrupt, immoral rulers with an exactly corrupted society. It is like when a supervisor at some workplace is not loyal to his job and is not playing his proper part. Then the co-workers working under him are also laidback and dishonest.
So, to bring the best out of people, you first have to bring the best out of yourself. You can not preach truth, non-violence, Dharma, loyalty, and morality to someone unless you also possess and practice all of these. Good or bad results come out from good or bad influences.
Courtesy: Google images