Dhanvantari Mantra is a powerful mantra to please Lord Dhanvantari, the father of Ayurveda, to be blessed with immortality, free from diseases and happiness.
Lord Dhanvantari is regarded as one of the most benevolent gods who is also an ultimate healer.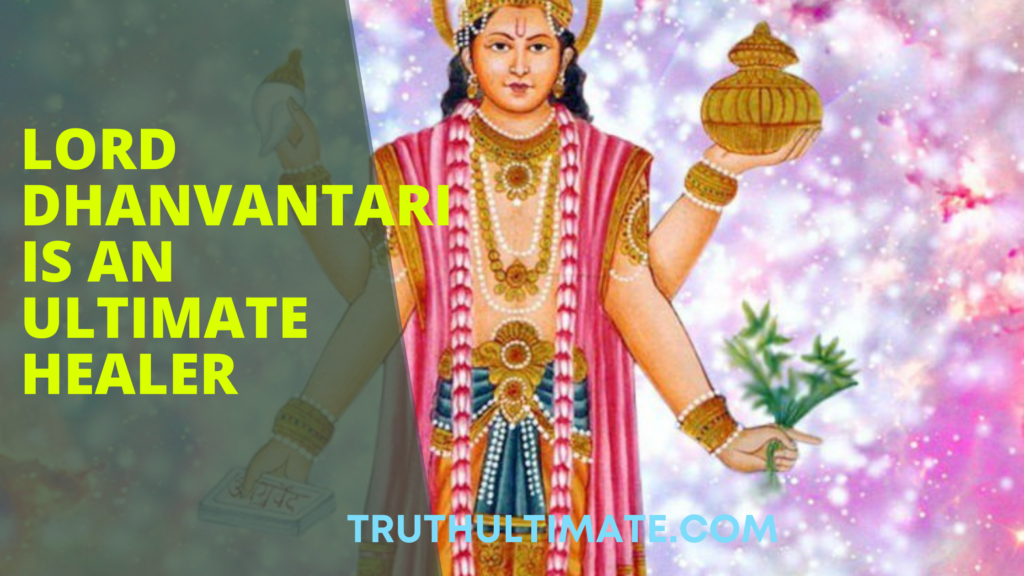 He is believed to have all the powers in the world required to free an individual from all kinds of diseases and fears.
When you chant the all-powerful Dhanvantari Mantra, you can be sure of putting an end to all your sufferings while ushering in prosperity and happiness. 
What is Dhanvantari Mantra?
There are several manifestations of Lord Vishnu. However, one of the popular manifestations is that of Lord Dhanvantari.
How the Lord Dhanvantari emerged is a story worth telling everyone. When the gods and demons fought with each other, searching for the immortal nectar.
Then, it was decided that the only way possible was to churn the mighty ocean. Lord Dhanvantari emanated during the course of this process. 
There are lots of temples dedicated to the Lord in the southern part of India, including Tamil Nadu and Kerala.
Incidentally, these are the regions where Ayurveda is patronized and highly practiced. 
It is believed that the composition of Ayurveda, the ancient Indian science of medicine, was done by Lord Dhanvantari.
Which are in several forms, like Shalya Shastra, Agada Tantra, Bhutavidya, Vajikarana Tantra, Shalakya Shastra, Kuamarbhrutya, Kayachikitsa, and Rasayana Tantra.
It is for this reason Lord Dhanvantari is widely regarded as the 'Father of Ayurveda'. Therefore, he is worshipped a couple of days before Diwali, on Dhanteras. 
Dhanvantari Mantra Lyrics
"Om Namo Bhagavate Vasudevayaa Dhanvantaraye Amrita-kalasha HastaayaSarva-amaya Vinashayaa Trailokya Naathaya Dhanvantri Maha-vishnave Namaha."
The Dhanvantari Mantra translates to:-
"I bow to Lord Dhanvantari, the divine figure with a pot of immortal nectar, discuss a leach, and someone having four hands carrying a conch.
There is a brilliant and pleasing blaze of light that shines through his heart. The Lord is seen having beautiful lotus eyes and also has the light around his head.
The actions of the Lord are such that all diseases get destroyed like a blazing forest fire." 
When you chant the above Dhanvantari Mantra lyrics regularly, you can be sure of improving your health and overall well-being.
Even our elders and people belonging to the previous generations used to chant this mantra regularly and had the Dhanvantari Mantra lyrics at the tip of their tongue. 
According to Ayurveda, for all treating all kinds of diseases in a stable way, blessings of the Lord Dhanvantari is needed.
Without his blessings, effective treatment is not possible.
The need for any treatment form is to make the medicine reach the right areas in the body and start working in a way it is developed.
For all this and more to happen, we need to chant Lord Dhanvantari Mantra in Kannada or in any other language.
Be it in the current pandemic stage or any situation, if you have any member of your family who is suffering from a disease or any ailment, chanting these mantras in a way everyone can hear makes a lot of difference. 
Dhanvantari Mantra for Ayurvedic Physicians
It is a general practice of many Ayurvedic physicians in India to worship Lord Dhanvantari to help them provide relief to patients.
The mantra given below is often recited by Ayurvedic practitioners before they start treating the patients.
The concept behind this is to invoke the Lord and seek his blessings.
"Namani Dhanwantari Aadi Devam – Surasura Vanditham Pada Padmam – Loke Jara Rugbhay Mrityu Nashakam – Datharam Eesham Vividhaushadhinam"
The meaning for the above mantra is simple:-
I bow before you, my Lord. Both the gods and demons bow to your lotus feet.
You have all the powers in this world to rescue people from the fear of death, ageing, miseries of illnesses, and other sufferings.
Lord, please bless me and provide me with enough strength to cure people of their sufferings. 
How to chant Dhanvantari Mantra
The perfect time to chant Dhanvantari Mantra in any language is during sunrise or before it.
Ideally, you should take a bath, wear fresh clothes, and then start chanting the mantra while using a crystal rosary or lotus bead.
This mantra can be chanted 108 times or in multiples of 108. This count can be increased over a period of time.
You can chant Dhanvantari Mantra for all diseases. If possible, you can consider donating food and medicines to the poor and needy.
This small but large-hearted act will enhance the effect of chanting mantras. 
Dhanvantari Mantra Benefits
There are immense Dhanvantari mantra benefits to look forward to if you chant the right away and with full devotion.
Given below are some benefits you can get in showing your devotion to the Lord Dhanvantari by chanting the mantras:
1. Chanting this mantra helps allay different kinds of afflictions and mental fears and thereby facilitating a clear vision.
2. You can expect increased energy levels and vitality when you chant this mantra consistently. What's more, you can also reach a state of well-being.
3. All kinds of mental and physical diseases can be cured by chanting Dhanvantari Mantra.
However, the biggest benefit remains in the granting of liberation.
4. Even diseases that are incurable get cured after you recite this mantra regularly.
Therefore, it is highly beneficial for people who are dealing with diseases for several years.
The Dhanvantari Mantra acts as a natural remedy and individuals should get some respite from the problems they're facing after following the regime of chanting the mantra.
5. It is believed that all the divine energies touch upon us whenever we chant the mantra.
Therefore, from soul and body to mind, just about all aspects of our life is touched by the power of the mantras.
The more you chant, the greater are the healing and positive effects on you. 
6. Even the laws of nature are positively impacted when you chant the Dhanvantari Mantra regularly.
Chanting of mantras is also useful in changing the vibrations within us as they affect us emotionally, physically, and spiritually.
The more one renders the mantra; the greater are the chances of shifting the consciousness and energy.