A diverse array of entrepreneurs brought their ambitious business concepts before the Sharks on a recent episode of the hit show. From frozen food to dating advice, these founders sought backing to take their ventures to the next level.
Wellingtons aims to bring high-end dining experiences into any home kitchen by delivering frozen, ready-to-bake Wellington pastries packed with gourmet fillings.
Their one-of-a-kind Beef Wellingtons, Breakfast Wellingtons, and Cheeseburger Wellingtons captured the attention of the investors with their unique take on the classic dish.
Young Inventor Streamlines Baseball Glove Prep
Budding 8-year-old entrepreneur Gavin pitched Glove Wrap, his innovative creation for efficiently shaping and breaking in baseball mitts. Alongside his family, Gavin runs this promising startup serving players of all ages and skill levels.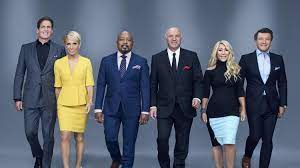 Gavin came up with the idea for Glove Wrap after breaking in his own baseball glove with his dad using wraps and bands, inspiring him to create a specialized product to make the process easier.
Expert Guidance on Finding Romance
Dating coach Blaine Anderson helps men build confidence and attract partners through his dating advice company, Dating By Blaine. Blaine offers personalized coaching and workshops to equip clients with strategies for marketing themselves effectively.
With 10 years of experience, Blaine provides tailored tips on building self-assurance, improving communication skills, and presenting an authentic personal brand when dating.
AI Platform Tackles Tedious Online Tasks
Bot-It utilizes artificial intelligence to automate mundane digital work for businesses and individuals. Experiencing rapid growth, this automation service completes online duties while users focus on bigger priorities.
Bot-It's founder, a computer science graduate, leveraged his AI expertise to develop a virtual assistant that can be customized for each client's unique needs.
On Shark Tank, promising startups get a chance to land life-changing investments and mentorship. From food to tech, this episode featured creative entrepreneurs vying for backing from the celebrity Sharks.
Their success could mean more innovation and convenience for consumers across multiple industries.