The phrase 'Nothing is Impossible' is a small one in terms of words but contains a very substantial signification. This phrase is a lifelong motto for a lot of people and a lifelong struggle for many. People spend all their lives trying to live by this in the light of doing something great in their lives.
As insignificant as it seems, this phrase if you don't believe it, can make you paralyzed for life. You become inept of affecting, crafting, developing, and making your efforts come to life. You do not believe in the most powerful impulse of life, happiness.
When a person ceases to believe that anything is impossible in life, they stop going after their dreams and achieving good for them causing them to spiral down into rock-bottom from which it becomes very difficult to recover.
Nothing Is Impossible Meaning
In daily life, humans come across many thoughts and challenges that they think are impossible to comprehend or achieve and they don't even care to spare a second thought about it.
There are thousands and millions of people that are leading dull and depressed lives because what their life is offering them is different from what they wanted. Why not achieve what they wanted? Because they don't believe in 'Nothing is Impossible.'
If everything in life is dull and doesn't bring you joy or motivation then you are on the wrong track. However, the problem starts when you start to believe that there is no getting away from this wrong track. This flawed belief is what holds those millions of people back for their whole lives.
Nothing is Impossible means to forget the fear of failure. Only the type of people who don't fail are the type of people who never take risks, and a life free from risks is nothing but depression and sadness.
People who constantly believe that their goals are far from reality and they stay in the existence of false refuge, these people never make mistakes and never grow. The fear of failure holds back people from making mistakes and ultimately from enjoying the joy of success which is one of the most important forces of life.
Those who believe in the motto 'Nothing is Impossible' do not have their efforts and decisions shaken by the people who are far from this motto. Because the arch-enemies of people who believe in this motto are the people who don't believe in this and fear that others achieving things will only bring them shame and self-realization.
They keep reminding you about the false boundaries that they have created in their minds and they expect you to follow them. Whereas, boundaries should only be thought about how they should be crossed and not followed.
A person who knows the true meaning of nothing is impossible is not afraid of the failures that might strike them down the path of success. Neither do they care about what the scared lot would say about their decisions and aims. Rather, they keep making mistakes again and again until they see their goals getting accomplished and their lives getting better.
The important part is that the belief in nothing is impossible is not a one-time goal, rather, people who know the true meaning and importance of this continue to keep their belief in it setting new and higher goals to discover new and ultimate heights of their abilities and strengths.
Nothing is Impossible with God Bible Verse
Everybody in this world has taken support from an external source to help them develop their belief in 'Nothing is Impossible.' Some take help and support from human sources like family or friends.
Sometimes help may come from a more structured human source, like a therapy group. However, many philosophers and thinkers from the past and the present believe that the most powerful source of support that makes a person have a firm belief in the motto of nothing is impossible is God.
Bible, the holy book of God encourages mankind to believe that everything is possible with God and his blessings. Concerning Bible, Jesus is considered to be the greatest example of the Bible's manifesto on nothing is impossible. His perseverance in the darkest of times in his life resulting in a series of miracles and becoming a preacher was all result of this very strong belief in God and nothing is impossible.
Almost all of the time in our lives we find ourselves stranded in situations that seem almost impossible to overcome. May it be a financial issue, or an issue related to health, or something else where any betterment seems impossible to happen.
These are the situations where Jesus' words 'with God all things are possible' find their true meaning. It simply means, with God by your side you can overcome even the most impossible of situations and problems that come in your way. He is the creator of all mankind and can make anything happen within no time.
However, the context of these words of Jesus is the account of the rich young man to whom Jesus called asking the man to follow him in the path of God. Jesus told him to sell all of his precious belongings and wealth which made him sad because of how impossible it may seem to a rich man to give away all his wealth.
Jesus told him that how hard it will be for the rich people to enter heaven and exemplifies the situation by comparing it to a camel going through the eye of the needle.
The basic meaning of Jesus' words was to help humans realize that how easy it is for God to make the most impossible things happen without any trouble. What is impossible to the human mind is possible with God (v.26).
Nothing is Impossible in this World
Nothing is impossible in this world is a fact and not an overestimation or some impulse of overconfidence. This world has seen some very life-changing personalities and the common factor of all these personalities was that all of them believed that nothing is impossible in this world.
If we start naming some very common famous people who lived and changed the world by this motto it wouldn't hurt to start with Bill Gates, Steve Jobs, Isaac Newton, and Albert Einstein, etc.
However, these people shifting the world dynamics wasn't just a coincidence or a single-day effort. They went through a series of adversities, failures, and day-night struggles to achieve what they started to be known for.
Their struggles had a direction and some basic guiding principles that helped them signify the motto, nothing is impossible in this world.
The 5 important checkpoints that every successful person marks in their struggle to achieve the impossible are:
Clarity about what you want in life
Defined planning
Malleability
Firmness
Nothing is Impossible attitude
A life without clarity is a life lost. Just like you won't start running around a city you barely know, similarly, you should not start running around for things in life that you haven't planned. It is very important to be clear in your mind about what you want and what you need. You should clear out your aims and goals in mind and how much they mean to you.
After a clarity of aims, the next step is to create a meticulous plan of how to achieve your goals. A clarity without a plan will take you nowhere and you will spend the rest of your life in a single spot hitting targets that are not even clear to you. After planning your goals, they will become clear to you and now you can start hitting your targets.
Hitting targets isn't as easy as it sounds because taking chances means there will be near-miss situations that will challenge your firmness and dedication. This is where adaptability plays its part i.e. if a plan fails what are the necessary steps to take that will help produce a somewhat favorable outcome.
By the time a person reaches malleability their faith in their dreams starts to shake because hitting targets brings failures. This is where you need firmness and a rock-solid belief in nothing is impossible.
Nothing is Impossible in Life
The irony is that the phrase 'Nothing is impossible' may seem impossible itself to a lot of people in this world. Some people will attribute their negative attitude towards their problems, whereas, some of them will attribute the negative attitude towards a financial constraint.
Whereas, the harsh reality is that the world has seen people manifesting nothing is impossible in the worst of conditions. Such people do not allow any of their problems to increase problems further in their lives.
They believe that putting an end to their miseries and dullness can only come from facing their current problems and standing in front of them till the end.
God helps those who help themselves is what applies in such situations. No good ever comes just by cursing the already present problems around oneself. Some people are born lucky and are free from financial constraints but those who aren't lucky have the same chance of success as their lucky counterparts.
The world may produce unfair situations at some points but when a person trusts God with their hard work they don't care to think about how and what unfair means could affect their results. This is the ultimate level of achieving the nothing is impossible attitude in life.
Nothing Is Impossible Quotes
Nothing is impossible is a never-ending topic of debate and discussion all around the world for people of all ages. Everyone around the world, irrespective of their caste, creed, color, or age faces situations that seem to be like a dead-end in their life. This is when they come across the famous 'nothing is impossible' dilemma.
Some people pursue this as a general topic of discussion and value perceptions of the famous people who became the emblem of 'nothing is impossible.' Whereas, some people seek this attitude from a religious point of view consulting the sayings of religious personalities of their concerning religion.
To provide an overview of this multi-faceted dilemma, we have put together a collection of nothing is impossible quotations from various sources.
Nothing is impossible Quotes from Bible
But Jesus looked at them and said, "With man this is impossible, but with God all things are possible." ~ Matthew 19:26 ESV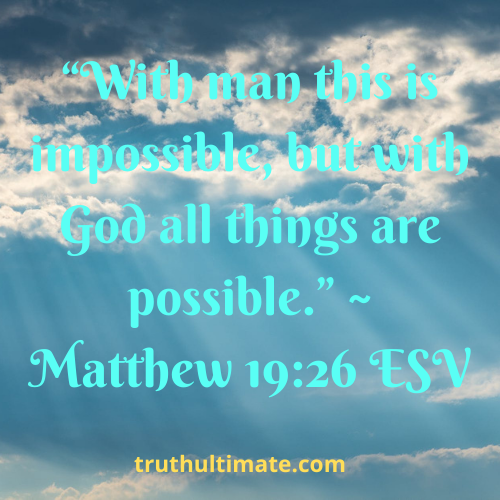 For nothing will be impossible with God. ~ Luke 1:37
I can do all things through him who strengthens me. ~ Philippians 4:13
Jesus looked at them and said, "With man it is impossible, but not with God. For all things are possible with God." ~ Mark 10:27 ESV
He said to them, "Because of your little faith. For truly, I say to you, if you have faith like a grain of mustard seed, you will say to this mountain, move from here to there, and it will move and nothing will be impossible for you." ~ Matthew 17:20 ESV
And the LORD said, Behold, the people [is] one, and they have all one language; and this they begin to do: and now nothing will be restrained from them, which they have imagined to do. ~ Genesis 11:6 KJV
I know that thou canst do every [thing], and [that] no thought can be withholden from thee. ~ Job 42:2 KJV
For God so loved the world, that he gave his only begotten Son, that whosoever believeth in him should not perish, but have everlasting life. ~ John 3:16 KJV
Therefore I say unto you, What things soever ye desire when ye pray, believe that ye receive [them], and ye shall have [them]. ~ Mark 11:24 KJV
Fear thou not; for I [am] with thee: be not dismayed; for I [am] thy God: I will strengthen thee; yea, I will help thee; yea, I will uphold thee with the right hand of my righteousness. ~ Isaiah 41:10 KJV
Ah Lord GOD! behold, thou hast made the heaven and the earth by thy great power and stretched out arm, [and] there is nothing too hard for thee: ~ Jeremiah 32:17 KJV
What then shall we say to these things? If God is for us, who can be against us? ~ Romans 8:31 ESV
In all your ways acknowledge him, and he will make straight your paths. ~ Proverbs 3:6
No temptation has overtaken you that is not common to man. God is faithful, and he will not let you be tempted beyond your ability, but with the temptation, he will also provide a way of escape, that you may be able to endure. ~ 1 Corinthians 10:13 ESV
Behold, I am the Lord, the God of all flesh. Is there anything too hard for me? ~ Jeremiah 32:27 ESV
Nothing is impossible Quotes from famous personalities
"There are many things that seem impossible only so long as one does not attempt them." – André Gide, Autumn Leaves
"Nothing is impossible, the word itself says I'm possible!" – Audrey Hepburn
"Darkness comes. In the middle of it, the future looks blank. The temptation to quit is huge. Don't. You are in good company… You will argue with yourself that there is no way forward. But with God, nothing is impossible. He has more ropes and ladders and tunnels out of pits than you can conceive. Wait. Pray without ceasing. Hope." – John Piper
"Nothing is impossible in this world. Firm determination, it is said, can move heaven and earth. Things appear far beyond one's power, because one cannot set his heart on any arduous project due to want of strong will." – Yamamoto Tsunetomo
"I plainly told them, 'Be ye sincerely converted, and with your whole heart, to the Lord our God, for nothing is impossible to Him, that He may today send you food on your road, even until you are satisfied, because He has everywhere abundance.' And, with God's help, it was so done: Behold! A herd of swine appeared in the road before our eyes." – Saint Patrick
"In my case, I can sincerely say that nothing is impossible… When I was saying I want to be No. 1 of the world, and I was seven or eight years old, most of the people were laughing at me because it seems like I have one percent of chances to do that, and I've done it." – Novak Djokovic
"It always seems impossible until it's done." – Nelson Mandela
"To believe a thing impossible is to make it so." – French Proverb
"What we can or cannot do, what we consider possible or impossible, is rarely a function of our true capability. It is more likely a function of our beliefs about who we are." – Anthony Robbins
"Women, like men, should try to do the impossible. And when they fail, their failure should be a challenge to others." – Amelia Earhart
"There is nothing impossible to him who will try."– Alexander the Great
References