Ram Navami is a Hindu festival that is celebrated all across India to commemorate the birth of Lord Ram.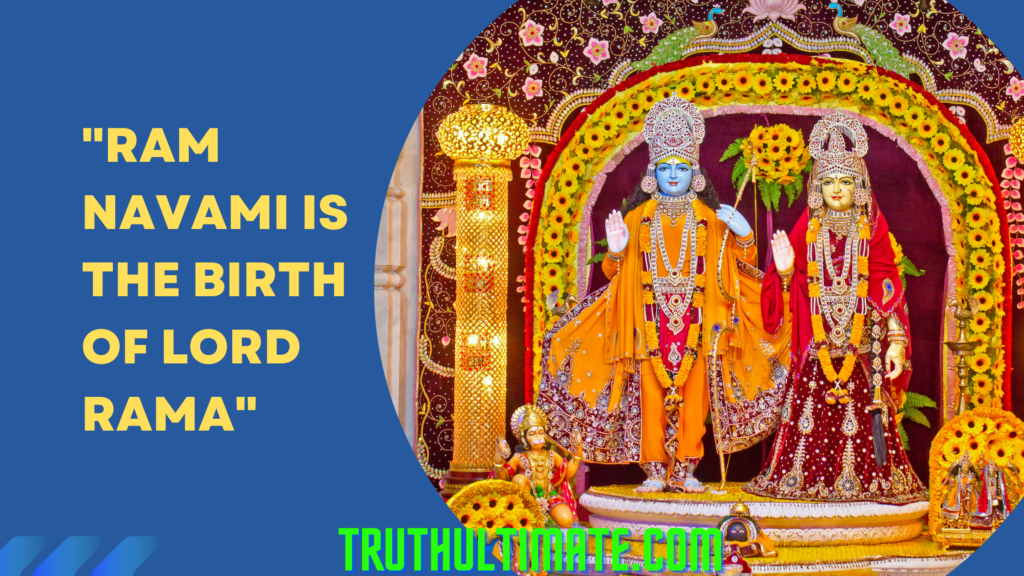 In Ramayana, one of the greatest Indian epics, Lord Ram is revered as the supreme god for all Hindus and, therefore, has a special place in the hearts of everyone.
Lord Ram is believed to be the seventh incarnation of Lord Vishnu.
Millions of Hindus across the globe flock to Lord Ram's temple around March and April to celebrate his birth.
Ram Navami
Ram Navami is celebrated on the ninth day of Chaitra Navaratri. Lord Ram was born in Ayodhya to King Dashratha and Queen Kaushalya.
As per the Hindu calendar, this major festival of Hindus falls in the Chaitra month in the Shukla Paksha.
On Ram Navami Day, devotees seek blessings from Lord Ram and pray for success, prosperity, and peace.
On the ninth day of Navaratri, devotees make sure to provide the needy with food. There is also the tradition of performing Kanya Puja on this day.
Hindus believe girls to be the manifestation of Devi and, therefore, invite nine girls on this day and follow certain rituals to show respect to the Goddess.
On this day, a special prasad is prepared using Kala chana, sooji halwa, and puri. Once the puja is over, this prasad is served to the girls.
What is Ram Navami Celebrated for?
Ram Navami is celebrated to commemorate the birth anniversary of Lord Ram. This day signifies the victory of goodness over evil.
This day is also an indicator of the victory of Dharma over Adharma.
Followers of Lord Ram and his devotees begin the day by offering water to Lord Sun (Surya Devta) and thereafter reciting the verses from the holy scriptures like Ramayana and Shrimad Bhagavatam.
Celebrating Ram Navami indicates the rise of positivity on the earth to eliminate negative forces.
Ram Navami Story
The holy scripture of Hindus, Ramayana, clearly depicts the legend of Ram Navami.
As per Hindu mythology, there existed a king in the Treta Yug called King Dasharath who ruled over the city of Ayodhya.
He had three wives – Kausalya, Kaikeyi, and Sumitra. Being childless, he was worried about the future of his kingdom.
He, therefore, contacted the great sage Vasishta over this matter. The sage suggested that the king perform the Putra Kamesti Yagna to fulfill his desires.
Accordingly, the king invited Maharishi Rishyasringa to perform the yagna. After successfully completing the yagna, the Yagneshwara offered the king a bowl of divine kheer.
King Dasharatha offered this kheer to his wives. After a while, all the wives of the king conceived.
Queen Kausalya gave birth to Ram on the ninth day of Chaitra month. Ram is believed to be the seventh incarnation of Lord Vishnu.
The purpose of Ram's birth was to protect his devotees from the wrath of demons and to establish Dharma on the land.
The people of Ayodhya were really satisfied with the rule of Lord Ram and loved him a lot.
Thus, they would celebrate the occasion of his birthday with lots of enthusiasm and joy. This day is marked as 'Ram Navami'.
Why do we celebrate 2 Ram Navami?
We celebrate Ram Navami not once but twice a year because of its Mythological significance.
The first of these celebrations is at the beginning of the winter (the Ashwina Navaratri).
This is the most popular of the two Navratri's. The other Navratri falls between March and April and is not known by many.
This is Chaitra Navaratri and, like Ashwina Navaratri, is celebrated for nine days in honor of Goddess Shakti.
She is known by different names in other parts of India, like Parvati, Sherawali Maa, and Durga. Navratris are celebrated across two seasons.
While one of the Navratri is celebrated during the transition period of winters and summers, the other falls in autumn, when the transition of summer to winter takes place.
When these seasonal changes take place, there comes a change in Mother Nature. This festival is, therefore, commemorated to celebrate Goddess Shakti. Incidentally, Goddess Shakti is Mother Nature herself.
According to Hindu mythology, earlier Navratri used to be celebrated only during summer.
However, at the time of war with Ravan, Lord Ram wanted to take blessings of Maa Durga, and he didn't want to wait for another six months.
For this reason, he initiated the tradition of celebrating Navratri before the onset of winter.
Before Lord Ram left for Lanka, he performed Durga Puja and, in the war, he emerged victoriously.
Why Ram Navami is Celebrated for 9 Days?
Ram Navami is celebrated for 9 days for a simple reason. The nine days of the festival are used to commemorate the nine avatars of Goddess Durga.
These nine nights signify the victory of good over evil or the crushing of egotism and negativity.
Each of the Navratri days is dedicated to a distinct avatar of the Goddess Durga. Also, each day of this grand festival is associated with a particular colour.
Therefore, devotees across the world make sure to worship a particular deity every day and make the occasion special by wearing dresses of the corresponding colour.
What Can We Eat on Ram Navami?
Ram Navami is celebrated all across the country, mainly in the month of April. Incidentally, the 9-day festival season indicates the start of the Hindu New Year.
While some of the devotees fast on the first and last day of the festival, there are many others who observe fast throughout the festival.
To get the best results for your devotion and to seek the blessings of the Goddess, you need to follow certain rules while eating or drinking during the festival period.
Eating fruits during this festival will be a great idea. This way, you can satisfy your hunger aches and provide your body with all the vitamins and minerals it needs.
You have the option of eating fruits in their raw form or making juices and milkshakes out of them.
However, you need to remember that certain ingredients, like plain salt, red chili powder, and turmeric, should not be added while preparing the food.
A healthy alternative to your daily snack or breakfast is the Sabudana Khichdi. This humble food provides instant energy to your body.
In using Sabudana as the main ingredient, you can also prepare other dishes, like Sabudana papad, Sabudana vada, kheer, etc.
As Sabudana is full of carbohydrates, your body will get the energy it requires in a quick time.
Rajgriha ka atta or Singhare/Kuttu are two different types of flour that can be used to prepare halwa, dosa, or chapati.
This flour will provide you with instant energy and can be consumed during the time of the festival.
Potatoes are another healthy option for you to try during the festival season.
The food is rich in starch and carbohydrate and will help you fill up in a short period.
You can either make halwa out of it or fry it a little. Your day will be sorted in either way.
Dairy products can also be consumed during this period.
These products can be had in many different forms, like paneer, lassi, milkshakes, coffee, tea, etc.
There are a variety of dry fruits to be tried as well. Dry fruits not only help fill your stomach quickly but also are an excellent source of energy.
However, make sure that you do not consume them in excess as they can cause body heat.
Ram Navami 2022 Date and Time
As per the Hindu calendar, Ram Navami will be celebrated on 10th April 2022. The festival will fall on Sunday.
On April 10 2022, the Navami Tithi will start from 1:32 AM. The Tithi will end at 3:15 PM the next day, on April 11, 2022.
The ideal time to worship on April 10 is between 11:10 AM and 1:32 PM.
Ram Navami 2022 Muhurt
Given below are the details of Ram Navami 2022 Muhurt:
Ram Navami 2022: Sunday, 10 April 2022
Navami Beginning Date: Sunday, 10 April 2022, 01:32 AM
Navami End Date: Monday, 11 April 2022, 03:15 AM
Auspicious Time: Sunday, 10 April 2022, Between 11:10 AM and 1:32 PM
Ram Navami Puja Samgri
It is important for devotees to know about different items (Samgri) required during Ram Navami puja.
When you have all the items ready, you can proceed with the puja vidhi to seek the Lord's blessings.
Given below are the items you need to keep ready while performing Ram Navami Puja:
An idol of Lord Ram
A wooden chowki
Flowers
Haldi
Tulsi leaves
Chandan
A coconut
Akshat
A fresh piece of yellow cloth to cover the chowki
Banana
Fruits
Kumkum
A brass lamp
A janeu
Dhoop
Dakshina
Paan and Supari
Panchamrit (raw milk, honey, curd, ghee, mishri, or banana)
Camphor
Cotton wicks and ghee or oil
Trays for arranging all necessary items
A fresh piece of cloth or Kalava
Ram Navami Puja Vidhi
Begin your prayers by providing salutations to Lord Ganesha.
After offering salutations to the Lord, invoke him and then start Lord Ram's puja.
You can start the rituals by meditating or doing Dhyanam
Request Lord Ram to accept your humble offerings and then seek Lord Ram's blessings.
You can proceed with Avahanam after doing Dhyanam. Now, with all respect and with folded hands, pray to Lord Ram.
Then place the idol or the photo frame of the Lord on a wooden platform that is covered with a fresh yellow cloth.
Light a ghee or oil lamp
After lighting the lamp, you can proceed with Padya. Here, you're offering water to the feet of the deity.
Arghya will then be offered to the Lord. Now, offer fresh cloth, Haldi, Chandan, janeu, Tulsi leaves, flowers, Kumkum, and Panchamrit.
Once all the items are offered to the Lord, now you need to chant Vishnu Sahasranamam.
The offering of the Tamboolam and incense sticks are now made.
To conclude the pooja, perform the aarti.
Happy Ram Navami Quotes
Ram Navami is one of the most important festivals for all Hindus. It is celebrated on the 9th day of Chaitra month.
People of all walks of life celebrate Ram Navami with lots of joy and enthusiasm.
However, with the surge in cases due to COVID-19 in the past few months, there may have been a few restrictions in some parts of India.
But it hasn't dampened the spirit of Indians in celebrating this festival as they continue to send, receive, and share Happy Quotes from anywhere.
Even people who are restricted to their homes can connect with their near and dear ones and share happy greetings.
Given below are some happy Ram Navami quotes you can consider using during the festival season:
1. I wish this Ram Navami brings joy, prosperity, and peace to you and your family. May Lord Ram guide everyone on the right path.
2. May this grand occasion of Ram Navami light up positivity, harmony, and peace in your life. Have a wonderful Ram Navami.
3. Ram Navami wishes to you and your family. May Lord Ram provide you with perfect health and all good things in life. Happy Ram Navami.
4. May Lord Ram always be with you and your family. I wish you a bright and happy Ram Navami.
5. Lord Ram should mean the ideal he held aloft, the path he trod, and the ordinance he passed to all of us. Happy Ram Navami.
6. Let Ram Navami remind one and all about positivity and hope good things prevail over evil ones always. Happy Ram Navami.
7. Ram Navami ke shubh avasar pe aapke Jeevan me Prakash aaye, Bhagvan Ram aapke Jeevan me kushiya laaye. Shubh Ram Navami.
8. Ayodhya jinka dhaam hai, Ram jinka naam hai, aise Raghunandan ko, hum sabka pranam hai. Aapko aur aapke Parivar ko Ram Navami ka Hardik shubh kaamnaye.
9. May the ruler of this universe be with you always. Wishing you and your family a happy and prosperous Ram Navami.
10. May you be blessed with health and all the happiness. Have a wonderful Ram Navami!