Nearly a year ago, Bruce Willis' family announced his retirement from acting following an aphasia diagnosis. Recently he received a more specific diagnosis of frontotemporal dementia (FTD), a progressive disease. Willis' family has shared emotional updates on his journey over the past year.

Milestones Celebrated with Loved Ones

Willis celebrated his 68th birthday earlier this year, surrounded by his ex-wife Demi Moore, their daughters Scout, Rumer, and Tallulah, his wife Emma Heming Willis, and their young daughters Mabel and Evelyn. The family has rallied around Willis, offering love and support since his diagnosis.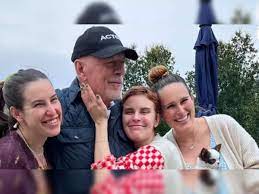 Despite his condition, Willis still finds joy in life's special moments with those closest to him. His family provides comfort amid his health challenges.

Streaming Brings Back Classic Willis Role

This month, Willis' late 1980s series Moonlighting launched on Hulu. Willis was eager for new audiences to discover the show, according to series creator Glenn Gordon Caron. Streaming the series meant a lot to Willis before communication became difficult due to FTD's progression.

Caron remains in touch with Willis' family and wife. He recalls Willis' boundless "joie de vivre" that made him shine on Moonlighting. Though his ability to communicate has diminished, Caron believes Willis still recognizes him in moments.

Living with Dementia's Effects

Caron shared Willis can no longer read due to FTD. His language skills are largely unavailable now. Yet his essence still shines through at times, bringing joy to loved ones.

Dementia has placed a screen between Willis and life, Caron relayed. But Willis' spirit remains, lighting up around the family despite FTD's cruel impacts. After decades in the spotlight, quiet moments with loved ones now take focus in Willis' life.

Though Bruce Willis' frontotemporal dementia has been difficult for his family, his wife Emma Heming Willis aims to focus on the beauty surrounding them. She shared that amid the grief,
Bruce would want his loved ones to embrace life's joyful moments together. Despite his condition's hardships, their family still cherishes precious memories.