Former dancing reality show champion Brooke Banks recently reflected on her unforgettable experience with professional dancer Derek Hough.
The pair took home the trophy in 2008 and developed intense chemistry while training together. In a candid interview, Banks admitted she felt tempted to have a romantic "affair" with Derek during filming.

An Intimate Bond Forged Through Dance

Banks described her time with Derek as "magical," saying their daily dance practices fostered an incredibly close connection. She revealed they spent most of their time together, their bodies intertwined through dance.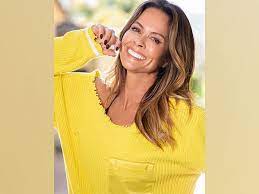 Banks stated she had never felt so intimately linked to someone besides a husband or lover.

Temptation Was Constant, But Nothing Happened

Though Banks was married at the time, she confessed to being constantly tempted by Derek throughout filming. She called it more intimate than physical intimacy in the bedroom. However, despite a strong attraction, Banks reiterated that nothing ever happened between them.

Husband Encouraged Their Closeness

Banks shared that her husband supported her growing bond with Derek, likely realizing it would improve their chances in the competition. She said if she wasn't married, she absolutely would have pursued the dancer romantically.

A Challenging Situation

Banks admitted it was not easy being tempted by such an intimate connection while committed to her marriage. However, she is proud she never crossed the line and found a way to channel the chemistry into their performances.

A Once-In-A-Lifetime Experience

In the end, Banks looks back fondly on the magical experience she shared with Derek through dance. She says she has never felt such a deep connection to another person outside of marriage.
Her time on the show taught her the power of intimacy forged through movement and trust with a partner. Banks hopes viewers understand the unique bond between dance partners.